Regional buzz: Haryana government wants life-size photos
Updated on Jul 20, 2015 11:59 AM IST
After carrying out the construction and repair works for about two months, the entrance of the Haryana Civil Secretariat building, housing the offices of the chief minister, his ministers and top bureaucrats, has got a new, bright look.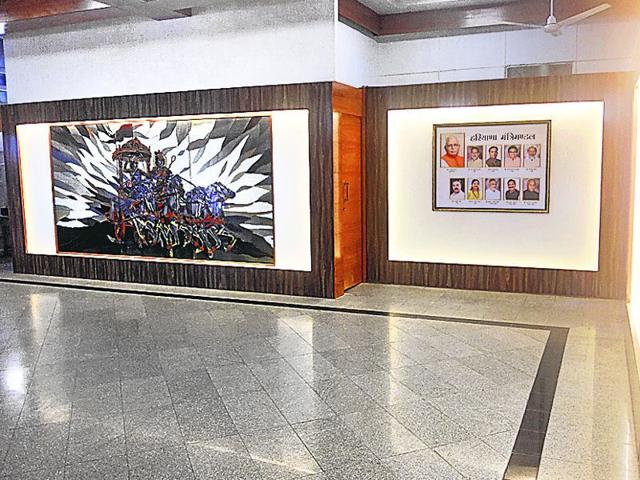 Wanted, lifesize photos

After carrying out the construction and repair works for about two months, the entrance of the Haryana Civil Secretariat building, housing the offices of the chief minister, his ministers and top bureaucrats, has got a new, bright look. The old painting with a Sanskrit shloka on the land of Haryana has been shifted to the front wall and the background of the photographs of buildings and spots of archaeological and historical import have been refurbished. Bright lighting makes it stand out. While the display of photographs of chief minister Manohar Lal Khattar and his ministers has been made better, the buzz is that these would be replaced with bigger photographs.

Congmen's 'selfie craze'

Getting clicked with top leaders has always been a weakness with political workers. But the 'selfie craze' among the Congressmen at a recent rally of Amritsar Member of Parliament (MP) Capt Amarinder Singh was a tad too much. It all started with the former chief minister's entry to the rally venue in Samrala. The workers positioned themselves close to the podium and clicked selfies with him. A large number of them even followed him to the enclosure where he was to have lunch and gathered on all sides of his table to click selfies. So much so that it became difficult for the hosts to breach the wall of workers and serve food. However, the former CM showed tremendous patience even as overenthusiastic workers climbed on to the bonnet of his SUV for selfies.
Spy wars and loyalists

The spy wars in Punjab Congress are getting murkier in the battle of one-upmanship between the warring factions and presidency hopefuls. At the rally of former chief minister Capt Amarinder Singh in SAS Nagar on Saturday organised by MLA Balbir Sidhu, some so-called local leaders and 'private' photographers were seen taking pictures and recording private conversations of MLAs sitting on the stage. One such 'spy' was busy capturing pictures of senior MLA Lal Singh while another at the back had a mobile phone in recording mode to capture his conversation with a scribe. A frontrunner for the post of Punjab Congress chief, Lal Singh was present at the rally with his loyalist MLA Parminder Singh Pinky and hailed Amarinder as the next CM. "The presence of the duo signals shift of power balance in Punjab Congress. If Lal Singh and Pinky come at the rally, it shows Amarinder is coming back to the helm or will have a say in who is to be the next Punjab Congress chief," quipped a MLA sitting on the stage. At a recent luncheon meeting at Amarinder's residence, leaders were asked to leave their mobile phones outside as it is difficult to tell a spy from a loyalist. Not everybody has deputy CM Sukhbir Badal's face-reading skills after all.
Fodder for gossip mill

Local Congress leaders got a chance to gossip when veteran leader professor Darbari Lal, who had switched loyalties from the Congress to the Bharatiya Janata Party (BJP) during the 2014 Lok Sabha elections, was spotted with his ex-colleagues during former Prime Minister Dr Manmohan Singh's visit to Amritsar recently. Lal had served the Congress for decades, but left it in the middle of the all-out battle between Arun Jaitley and Amarinder Singh. When the former PM visited the residence of veteran Congress leader RL Bhatia a few days ago, he was seen there as well.
Khattar's attempted Modi act

Haryana chief minister Manohar Lal Khattar is trying to follow Prime Minister Narendra Modi in style and strategy. Like his mentor, the first-time chief minister has shown a penchant for wearing colourful jackets over kurtas. The pracharak-turned-politician is also not very accessible and likes to keep the conventional media at arm's length, preferring to communicate mostly through tweets or official handouts. Khattar displayed another new facet of his personality on Friday when some girls called on him at official residence in Chandigarh to thank him for launching the Beti Bachao-Beti Padhao (Save Girl Child, Educate Girl Child) campaign in the state. The CM took a selfie with the girls using a 'selfie stick'. However, there was no way of knowing how well he clicked. A picture of him taking the selfie, and not the selfie, was released by his PR team. While Modi is famous for taking selfies including some really powerful ones, one will have to wait and see how often Khattar pulls out his smartphonefor selfies.
Bahubali CM and Vij

Haryana health minister Anil Vij has kept his boss and colleagues on the tenterhooks. They don't know what he might take offence to. When the Khattar government named Bollywood actor Parineeti Chopra, who hails from Ambala, its brand ambassador for Beti Bachao-Beti Padhao programme on Thursday, the health minister threw a tantrum. "I do not have any information of anybody appointed Brand Ambassodar (ambassador) of my department for Beti Bachao programme [sic]," the minister tweeted within hours. While CM Manohar Lal Khattar welcomed the appointment, Vij told reporters that his department was working hard to save the girl child and did not need any actress. "In the Indian parliamentary system, the CM is a Bahubali and can do anything. But I am in-charge of my department," he insisted. What took the cake was the manner in which he uploaded clippings of media reports on his disagreement with Khattar on his Facebook and Twitter accounts.
Caught unawares

Before the BJP government in Haryana decided on actress Parineeti Chopra as its brand ambassador for the Beti Bachao-Beti Bachao campaign, the names of at least two other Bollywood actors, who hail from the state, were also discussed in meetings attended by officials of different departments, including health. While some women and child development department officials had also proposed Mallika Sherawat's name for the brand ambassador's role, another name considered was that of Randeep Hooda. Both Sherawat and Hooda belong to Rohtak. While Hooda was out as most officials were not in favour of having a male brand ambassador for the campaign to save the girl child, there was more or less consensus among the officials on Chopra who belongs to Ambala. But then none of them had anticipated a controversy on having an actress as the brand ambassador.
Opposition 'milking' protests

Haryana education minister Ram Bilas Sharma does not miss any opportunity to take a swipe at rival political parties. Interacting with newspersons at a meet-the-press programme in Chandigarh, Sharma did not rule out the opposition hand in the protests against the ruling BJP government. He said it was surprising to note that the opposition parties raised a hue and cry over whatever the government did and tried to prove fair as foul. "Inka to virodh karna to aisa ho gaya hai ke agar kisi ki gayen bhi doodh kam dene lag jayegi to yeh kahenge ki BJP hi iski jimmewar hai (Their protest has been such that if someone's cow start giving less milk they blame the BJP for it)," he said, drawing guffaws from reporters.
AAP's fire refuses to light

The release of a compact disc (CD) containing Himachal Pradesh health minister Kaul Singh Thakur's purported conversation with a woman and some others raised a political storm in the state as the minister obliquely blamed chief minister Virbhadra Singh for the "leak". While the opposition BJP lambasted the government for leaking the private conversation and demanded a Central Bureau of Investigation (CBI) probe, the Aam Aadmi Party (AAP) made every effort to politicise the issue. The rookie party decided in utter haste to burn the health minister's effigy. However, the protest turned out to be amusing for commuters on the busy Mall Road. Three AAP workers gathered near the main square of district collectorate and wasted an entire matchbox while trying to set the poorly-made effigy on fire. When they failed, the AAP workers dumped the effigy near the bin and ran off.
Making the most

Himachal Pradesh chief minister Virbhadra Singh has been camping in New Delhi ever since Congress president Sonia Gandhi hosted an iftar party in New Delhi on July 12. His 10-day stay in the national capital has created anxiety in the state's political circles especially since he does not seem to have too many engagements there. While he skipped the July 15 meeting of NITI Aayog on July 15 as per the party leadership's decision, Virbhadra and party's state unit chief Sukhvinder Singh Sukhu had a meeting with All-India Congress Committee (AICC) vice-president Rahul Gandhi. The CM also visited Partapgarh district in Uttar Pradesh to unveil the statue of Rajput leader and former Union minister Dinesh Singh. However, the state secretariat has looked deserted in his absence with the ministers staying away and most bureaucrats choosing to go on official tours.
For mobile, lips sealed

The audio CD leak has not just rocked the political circles in Himachal, but also made politicians wary. They just don't want to talk to anyone using mobile phones. A few of them have started asking their friends and supporters to send in their requests through WhatsApp. And, it is just one-way communication as most ministers refuse to chat using the messaging app. The state government is probing phone tapping by the state police during the previous BJP regime.
IPS officer returns, 'introduced'

Himachal Pradesh Indian Police Service (IPS) officer Somesh Goel returned to the state after his stint as additional director general in Sashastra Seema Bal on central deputation. Though the director general of police (DGP) Sanjay Kumar was away to Delhi, a quick "introductory" tea meeting was held at the police headquarters on Friday in honour of Goel, who is also a DG-rank officer. The officer is expected to get a posting this week.
A teacher's political lesson

Local leaders from Fatehpur constituency have added to the dilemma of Himachal Pradesh power minister Sujan Singh Pathania who has been receiving frantic calls regarding the transfer of a school teacher posted in a local school. The minister has been receiving close to 20 calls a day with requests to get the transfer stayed. Pathania does not want to annoy his supporters, but the problem is that the primary school has one teacher and no students. "When there is no student I wonder why my supporters want to retain the teacher. This is the irony of being a political leader," he confided.

(Contributed by Anshu Seth, Sukhdeep Kaur, Navneet Sharma, Aseem Bassi, Rajesh Moudgil and Gaurav Bisht)
Close Story
Personalise your news feed. Follow trending topics