Unemployed Haryana teachers write complaint letter in blood to Khattar
Updated on Jul 31, 2015 03:23 PM IST
A group of teachers on indefinite hunger strike since in the past 15 days, demand reinstatement of 3,000 teachers; urge the CM to resolve matter or give permission to end their lives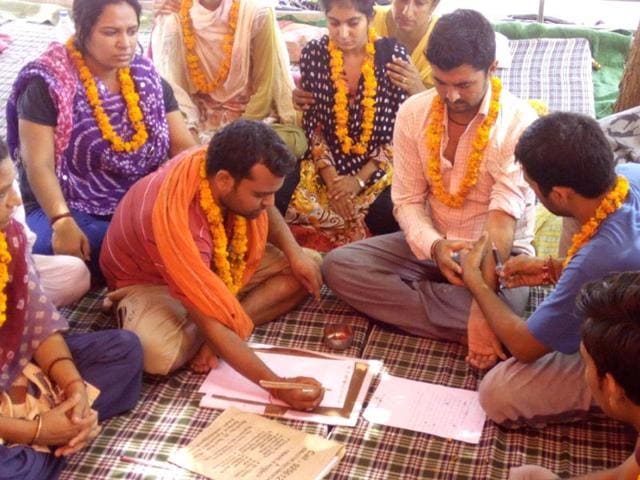 A group of teachers on indefinite hunger strike since in the past 15 days, demand reinstatement of 3,000 teachers; urge the CM to resolve matter or give permission to end their lives
Aggrieved over their demands being "overlooked", the members of the unemployed Haryana computer teachers union on Thursday wrote a letter of complaint with their blood as ink to Haryana chief minister Manohar Lal Khattar.
The teachers have been protesting for the past few months against the government for reinstatement of around 3, 000 teachers who were terminated from the service.
A group of teachers is on also indefinite hunger strike for the past 15 days.
In the letter, they urged the chief minister to either resolve their issue or give them permission to end their lives.
The Haryana government in 2012 had hired around 3,000 computer teachers through three different companies. However, these teachers were rendered jobless after the government terminated their contract with the companies.
The teachers' claim is that they possess the required qualification and should be absorbed in the education department.
Suresh Nain, spokesperson of the computer teachers association, said they had been getting only assurances from the government as far as concerned about their demands.
"We are tired of repeatedly hearing that the chief minister and the education minister are working on meeting our demands," said Nain, adding the government might take the letter written with their blood more seriously.
The association also condemned the use of force by the police against them. In last one week, the police restored to use of water cannon and cane charge to disperse the agitating teacher. Around 30 teachers sustained injuries during these agitations.
Close Story
Personalise your news feed. Follow trending topics