Air-portal to art arrives at KIA Terminal 2
Updated on Nov 24, 2022 05:39 PM IST
Terminal 2 at Kempegowda International Airport is designed to be a walk in the garden surrounded by various artworks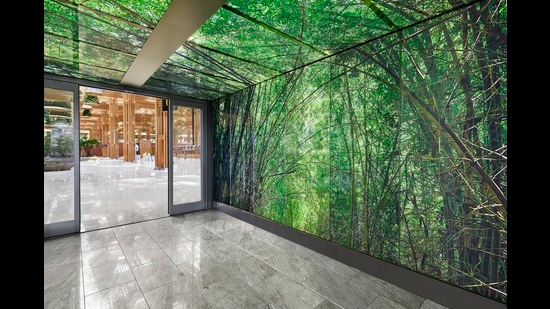 Bengaluru is now home to a second terminal at its international airport, inaugurated on November 11 by Prime Minister Narendra Modi.
The Kempegowda International Airport, which is spread over 2.5 lakh square metres, is aiming to host over two-and-a-half crore passengers every year with features like 22 contact gates, 15 bus gates, 95 check-in solutions and 17 security check lanes. Apart from that, the terminal hosts a first-of-its-kind section called 'Terminal in a Garden', which one can witness from the walls to the ceilings as well with their hanging garden attraction.
The terminal allows artists from all over the world to play a vital role in giving the place its own distinct identity. Yamini Telkar, head of the Art Programme at the Bengaluru International Airport, says, "We held an open call for art installations back in 2020. The theme we wanted to follow then was that of Navarasa, or nine emotions. It is a theme that is not only culturally relevant but also very appropriate for an airport terminal. Every passenger has their story and emotions and we wanted to showcase that."
For the first call, the terminal has shortlisted 21 artists from the 300 they received, and one artist from their second open call this year. The artworks are chosen and displayed at touch points where passengers are likely to spend more time, mainly the boarding and arrival corridors, Telkar shares.
The exhibits vary across mediums, from digital works to wall art. Singapore sculptor Madhvi Subrahmanian, shares with us, "My wall installation showcases a bird's eye view of airports from around the world with Terminal 2 in the middle of it. I wanted to show how airports look like creatures from above, and for passengers to have the feeling of wonder when they view it. It is a 40ft by 20ft wall art piece that features details like coordinates and tarmac lines using real tarmac from the runway."
Artist Anupama Hoskere, who expects to have her installation, Strings of Life, displayed at the terminal December onwards, shares, "I translated Madanika sculptures, found in temples of Karnataka, into puppetry for Terminal 2. It showcases the cultural aspect of Karnataka but also fits the theme of Navarasa perfecly. It took me about two years to complete the project and I'm very excited for it to be displayed at the airport!"
Personalise your news feed. Follow trending topics