Passenger posts bizarre flight route from Bengaluru to Bengaluru; See reactions
Yamini C S | Edited by Chandrashekar Srinivasan
Nov 24, 2022 10:41 AM IST
A pop-up on a reputable airline's website, showing a flight schedule from Bengaluru to Bengaluru has gone viral on the internet, with many sharing hilarious memes.
An AirAsia passenger trying to book a flight from Hyderabad to Bengaluru was left puzzled after a 'technical glitch' showed his flight - I5 1543 - taking off from (Bengaluru's )Kempegowda International Airport in Hyderabad and landing at (Kolkata's) Netaji Subhash Chandra Bose International Airport back in Bengaluru.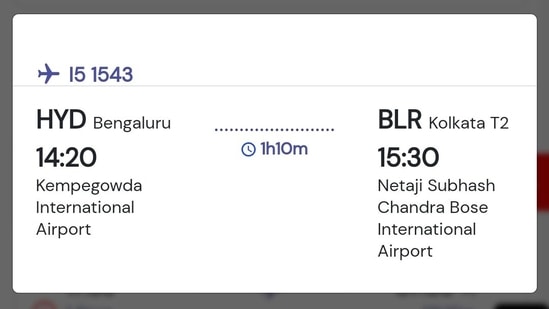 The passenger - Auditya Venkatesh - tweeted a screenshot of the mix-up and the post quickly went viral. With the screenshot Venkatesh asked, "Hi AirAsia India this is really confusing. So if I book this ticket, where will I really go? And where will I leave from?"
Stay tuned with breaking news on HT Channel on Facebook.
Join Now
The airline responded: "Hi Auditya, there might be a technical glitch. Kindly refresh the page and do the fresh booking."
To this Venkatesh replied, "The fact that it's a glitch is obvious. It did the same thing again, it was to edit an existing booking via the chrome browser on an Android phone. It still keeps showing the same thing. I still went ahead and booked it, because it was a last minute change. Fingers crossed."
"The codes are the only correct thing. Haha. The flight I was trying to book was from Hyderabad to Bengaluru," he posted in a separate tweet.
Social media users were amused by the interaction and the bizarre flight schedule - which showed two departures and two destinations.
"This is a genuine service request but feels like a meme," one user said.
"We're in the Musk melon Twitter now, the world is a meme," Venkatesh responded.
"Bangalore airport is in Hyderabad only. What's the confusion," another user said, taking a dig at the distance between Bengaluru city and the airport.
Yet another wrote, "In cost of 1 ticket you can visit 3 cities.. what else do you wish for?"