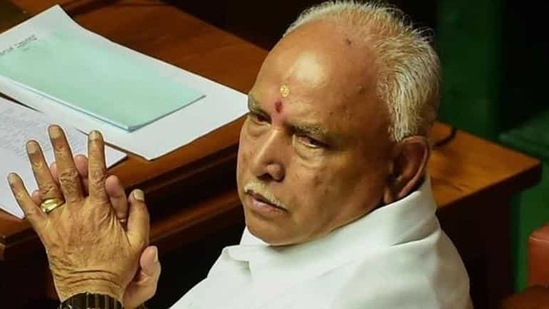 'Shrinking revenues may impact Karnataka's economy in future as well': Report
According to the Medium Term Fiscal Plan 2021-25 (MTFP) the effects of the negative revenue deficit will impact the state in the coming year as well.
By Sharan Poovanna
, Bengaluru
UPDATED ON MAR 10, 2021 12:13 AM IST
A closer look at Karnataka's financial situation shows that the deepening distress in the state's economy is likely to continue well into the next fiscal (2022-23), if not more.
According to the Medium Term Fiscal Plan 2021-25 (MTFP) the effects of the negative fiscal and revenue deficit will impact the state's fledgeling finances in the coming year as well.
"The Fiscal Management Review Committee (FMRC) states that the current decline in revenue collections has not only weakened the growth prospects of 2020-21 but it will also carry its effects to the next financial year. Hence it will have (a) negative impact on fiscal deficit, revenue deficit and total outstanding liabilities of the state," according to the MTFP, released along with the state budget.
Karnataka is one of India's most industrious states in the country and is home to its flourishing Information Technology (IT) industry that is estimated to touch $194 billion in the current fiscal, according to Nasscom. Karnataka is also key to Prime Minister Narendra Modi-led government's plans to grow into a $5 trillion economy by 2025.
Also read: 'Big budget, bigger debts' - Yediyurappa's show of Karnataka's finances
The state is home to some of the world's biggest corporations but a steady decline in share in central taxes, goods and services tax (GST) compensation and meagre allocations for flood and drought relief has exacerbated the problems of the calamity-prone state.
Karnataka saw its GSDP shrink 2.6% in 2020-21.
With lower revenue inflows from the Centre, floods, droughts and declining revenues from the state's own taxes, Karnataka is depending on higher borrowings that could further impact developmental activities, creation of assets and higher revenue expenditures.
"Higher borrowings are the reason for (the) deficit. We may try to restrict the borrowings this year depending on the revenue collections," said one senior official of Karnataka's finance department, requesting not to be named.
Karnataka's revenue expenditure has risen to almost 10 per cent of the GSDP (gross state domestic product) to ₹179,779 crore, according to government data. Karnataka chief minister BS Yediyurappa had budgeted an additional ₹10,000 crore in the 2020-21 budget for the rising revenue expenditure which includes payment of salaries, interest, pensions, subsidies, administrative costs and devolution to urban local bodies among others.
Yediyurappa has set aside ₹52,529 crore specifically under a category termed 'stimulating economic growth', which includes infrastructure projects, water connections, ₹3000 crore for development of backward taluks, railway projects and building of new clusters for textile and drugs, among others.
Data shows that there is a steady decline in revenue inflows from the centre in devolution and grants. The state received ₹28,591 crore in devolution in 2020-21 as against ₹30,919 crore the previous fiscal. Similarly, the state received ₹15,454 in grants in 2020-21 as against ₹19,983 the previous fiscal.
The revenue deficit is estimated to be ₹15,134 crore in the 2021-22 period. The state' revenues from its own taxes have also seen a marginal decline till 2020-21, data shows.
Commercial taxes and excise duty saw an increase of 3.4 per cent at ₹76,837 crore and excise saw an increase of 5.2 per cent at ₹22,700 crore (till the end of March) respectively. But there has been a decline in other taxes like -18.3 per cent in motor vehicle tax, -12.4 per cent in stamps and registration and 14.0 per cent in other taxes.
"Non-tax revenues may be reviewed to explore new sources of non-tax revenues as well as increasing the rates. Some fees/user charges, et cetera., were revised last year but collections are yet to pick up. Non-tax revenue hasn't yet reached optimal levels. A big increase in tax revenues may not happen. So we will have to cut expenditure," said the official cited above.
The reduction in revenue inflows has increased the total liabilities of the state to ₹4,57,899 crore as against ₹3,68,692 crore in the previous budget.
Analysts said that there was no visible effort to contain expenditure that would add to Yediyurappa's problems that include infighting, dissent and lack of performance with just two years left to go for the assembly elections in which the Bharatiya Janata Party (BJP) aspires to return with a majority on its own.
The chief minister has instead set aside hundreds, if not thousands, of crores to set up boards of specific caste-groups with no tax increases and higher borrowings. The state government is expected to borrow an additional ₹71,332 to fund its schemes, programmes and development work this year.
"This is a budget that borrows more to please all," A Narayana, political analyst and faculty at the Azim Premji University said.
He added that this was a year that the chief minister could have taken some difficult choices to set the economy back on track but there was no visible attempt to do so.
Topics
Close