Two Naxals killed in encounter along Madhya Pradesh-Chhattisgarh border
Nov 30, 2022 07:34 PM IST
The encounter took place near Supkhar-Motinala near MP's Mandla and Balaghat, and Chhattisgarh border
Two Naxals, carrying a bounty of ₹43 lakh, were on Wednesday morning gunned down during an encounter with the elite Hawk force and the Central Reserve Police Force (CRPF) on the Madhya Pradesh-Chhattisgarh border, security forces said.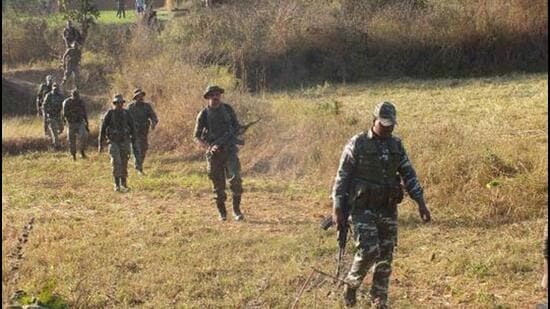 The encounter took place near Supkhar-Motinala near MP's Mandla and Balaghat, and Chhattisgarh border. The deceased are said to be members of the Kanha Bhoram Dev Committee.
The deceased, identified as Ganesh Madavi (35), the division committee member of Gondia Rajnanadgaon and Balaghat and in-charge of the coordinator team of Maharashtra, Chhattisgarh and MP (MCM) zone, and Rajesh (30), commander of the MCM and Kanha and Bhoramde (KB division).
"Naxal activities increased in the area because of the People's Liberation Guerrilla Army (PLGA) week from December 2-8. A search operation was going on in the forest of Mandla and Balaghat when the gunfight began. The Hawk team was conducting a search at night in Supkhar area, on the border of Mandla, Balaghat and Kawardha districts. Around 4 am on Wednesday, the Naxals started firing at the security forces. In self defence, the Hawk team retaliated. The exchange of fire continued for seven hours till around 11 am," Inspector general of police (anti-naxal operations) Fareed Shapu said.
The police recovered an AK-47 rifle and 315 bore rifle after the encounter.
Also Read:4 Maoists killed in gunfight with security forces in Chhattisgarh's Bastar: Police
"Acting on a tip off, the CRPF and Hawk force along with district police cordoned off the area in Supkhar and Motinala," Mandla superintendent of police Yashpal Singh Rajput said earlier in the day.
IG Shapu said five Naxals have been killed in the past five months in the region.