Busted 'cabbie gang' robbed over 200 night commuters in Delhi-NCR in 4 months
The robbers changed locations frequently and used two cars to throw police off track. They had specific roles. One would drive, others would withdraw cash from ATMs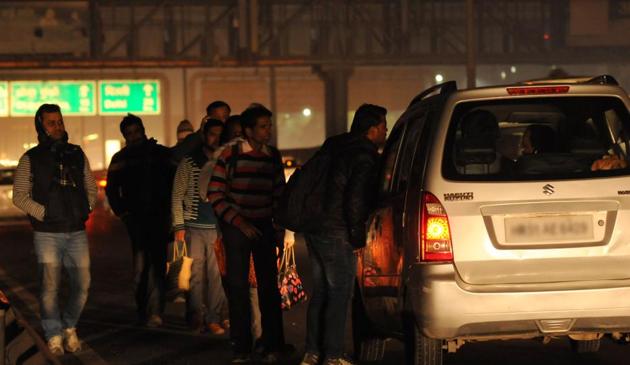 Updated on Dec 23, 2018 09:05 AM IST
A gang of cabbies-cum-robbers, which was busted five days ago, used to rob commuters on the Gurgaon-Delhi Expressway by offering them cab rides at night and targeted at least 220 people in Delhi-NCR over the last four months, accumulating around Rs 38 lakh in cash, jewellery and other valuables, the police said.
According to the police, the 'cabbie gang', as they are known, mainly targeted executives of multinational companies and BPOs, who waited for public transport on highways after dark.
The crime run of the gang, who used to take advantage of lack of public transport at night, came to an end after the police got a tip-off that they would be targeting a commuter at Iffco Chowk. An official of the crime investigation agency was deployed at the spot and, as expected, he was offered a lift by the gang. The police followed the cab and intercepted them on their way.
The gang comprised 12 members, who shared the loot equally among themselves, the police said. Those arrested men are Sahil Hussain, 21, Sajid, 20, and Shahid, 20, residents of Nuh, and Mohammad Sahil 24, of Palwal. They lived in different parts of the city and worked as cab drivers during the day.
Their modus operandi was to offer commuters a lift in their Dzire car at night and then assault and rob them. They used to force victims to reveal their ATM pins and withdrew money, besides taking their mobile phones, jewellery, laptops and other valuables at gunpoint.
A revolver, three live cartridges, a knife, chains, screwdriver and an iron rod were recovered from their possession. Following their arrest, more victims are now coming forward with their accounts.
On Friday, one victim, a 61-year-old businessman from Dera Bassi in Punjab, contacted Gurugram police, claiming he could identify the gang members arrested by the police. The businessman, Ashok Kumar Verma, said he had returned from Australia on November 11 and his relatives dropped him at the Karnal bypass around 9pm. "I was standing when they approached me and offered to drop me at my destination at a fair price, as per bus fares. I was in a hurry and so I boarded the cab. After travelling for 10 kilometres, they assaulted me and robbed me of my belongings worth Rs 2.5 lakh," said Verma.
The gang also used to assault their victims to force them into withdrawing money from ATMs. The police said they had collected Rs 18 lakh from ATM withdrawals, while the jewellery and other valuables they took amounted to around Rs 20 lakh.
Besides a countrymade gun, they also used a toy gun to intimidate passengers police said.
Though only 34 complaints have been received from executives in Gurugram, the gang admitted to having robbed at least 120 commuters after offering them lifts, the police said.
Shamsher Singh, the assistant commissioner of police, said a few Delhi and Punjab residents had contacted them after the gang was busted.
"The gang was not only active in Gurugram but also in Delhi and at the Karnal bypass. They have robbed dozens of people near the airport by offering lifts to Chandigarh and Ambala," said Singh.
The police recovered two Swift Dzire cars in which the gang offered rides, but they were yet to recover the money and ornaments from the accused, who were arrested late Monday.
Singh said the accused had bought two cars registered with cab aggregators. They worked as drivers during the day and targeted one victim each night.
"Hussain had bought the car four months ago and was paying Rs 18,000 as a monthly installment. The second car was bought by Mohammad Sahil, who was paying Rs 15,000 a month," said Singh.
They are already facing trials in a number of cases of carjacking and theft, the police said.
"Sahil planned to form a gang four years ago and was involved in carjacking and thefts. In July, he planned to buy a car and got it attached with a cab aggregator to evade the police and roped in his friends, who are history-sheeters," said Narender Chauhan, inspector, investigating officer.
"The gang had zeroed in on five locations in the city, all on the Gurgaon-Delhi Expressway, to look for targets. They mostly picked up victims from Iffco Chowk, Shankar Chowk, Rajiv Chowk and Hero Honda Chowk," said Chauhan.
The members were assigned specific roles, the police said. Mohhammad Sahil was the driver, while Shahid withdrew money from ATM booths using the victim's debit cards.
Islam and Iqbal used to attack the passengers first, and Sahil used to beat them up, if they did not reveal the passwords.
Close Story
Personalise your news feed. Follow trending topics