Countering stress through discussion, 'Pariksha Pe Charcha' hit among Ludhiana students
Jan 27, 2023 11:44 PM IST
All government, private and aided schools in Ludhiana were directed to arrange the broadcast of Pariksha Pe Charcha for students of classes 9th to 12th by the education department
Aimed at countering the stress and anxiety among the students in the face of examination through open discussion, Pariksha Pe Charcha, Prime Minister Narendra Modi's interactive session, remained a hit among the students in the district, who watched the event through remote mode in their respective schools.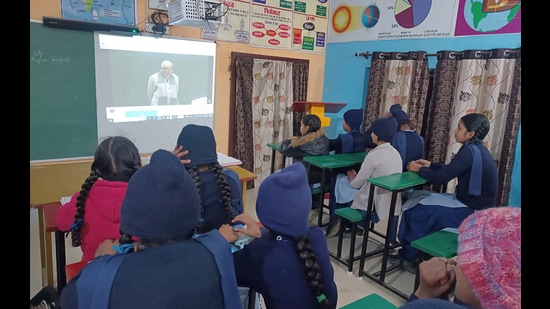 Students from around the country asked a range of questions including usage of social media, family pressure and the difference between hard work, and smart work in the annual event held at New Delhi's Talkatora Stadium. A total of 38 lakh students had registered for the event.
All government, private and aided schools in the district were directed to arrange the broadcast for students of classes 9th to 12th by the education department. As the pre-board examinations of the schools are currently underway, the teachers said takeaways from the program would help the students in countering their anxiety and focusing on what they can do best.
Guru Nanak Public School principal Mona Singh, said most of the students face anxiety and stress during the exams due to societal pressure and fear of how they will be judged if they did not perform well.
A specific focus on such an important issue by the Prime Minister certainly made an impact on the minds of the students. Students were able to take away a number of lessons from the event as the PM came down to the level of the students and guided them in a friendly way citing anecdotes from his own life, she added.
Further speaking, the principal said along with such events, the focus of the overall education system should be shifted towards experiential learning from examinations and rote learning.
A number of government schools showed the event to junior classes as well. Sonia, a computer science teacher, at Government High School, Gahaur which arranged the broadcast for all students in the school said the students were able to fully relate to the events and enjoyed the two-hour-long program. The event would go a long way in boosting confidence among the students and as well as parents to prioritize education over marks, she added.
Selected for the 'Pariksha Pe Charcha' city lad left in the lurch
City lad selected for participation in 'Pariksha Pe Charcha' with Prime Minister Narendra Modi was left in a lurch and received no response from the SCERT even after being informed about his selection for the event.
Government Senior Secondary School principal Kuldeep Singh, said we had been informed regarding the selection of our students for the event and were told that a team of SCERT will visit the school, but repeated attempts at reaching the authorities elicited no response.
Deepak Verma, a class 12 student said, "I along with my class in charge were scheduled to go to New Delhi. I was really happy after being informed about the event, but all my expectations have been crushed."