Interference in Moose Wala murder case 'undesirable': SC on father's plea
Jun 28, 2022 11:00 AM IST
The Supreme Court declined to pass any urgent order on a petition moved by the father of jailed gangster Lawrence Bishnoi, who is a prime accused in the murder case
Any interference into the investigation relating to the murder of Punjabi singer and Congress leader Sidhu Moose Wala is "undesirable", observed the Supreme Court on Monday, as it declined to pass any urgent order on a petition moved by the father of jailed gangster Lawrence Bishnoi, who is a prime accused in the murder case.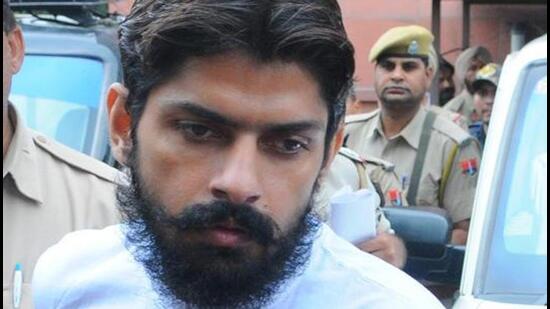 "It is a matter still at the stage of investigation where police are still making efforts to reach a logical conclusion. Any interference by this court will not be desirable," the bench of justices Surya Kant and JB Pardiwala told the counsel for Bishnoi's father.
Advocate Sangram S Saron, representing the gangster's father, submitted that the petition has challenged the orders of the Punjab and Haryana High Court and of a Delhi court allowing Bishnoi's transit remand from the national capital for his production in a Mansa court in connection to the murder of Moose Wala, who was gunned down on May 29.
According to Saron, there is already an interim order of the Supreme Court passed in February 2021, restraining authorities from shifting him to any other state for the time being. The Punjab and Haryana high court, in December 2020, ordered that Bishnoi be brought to Chandigarh from Rajasthan and then be handed over to the Haryana police in connection with another murder case. But that order was stayed by Supreme Court on February 2, 2021.
READ: Gangster Lawrence Bishnoi's father says Punjab lawyers boycotting his son
Saron, citing this order, claimed that his client could not have been sent to Punjab at all and that the transit remand order was wrong.
But the bench remained unimpressed. "Where did the murder take place? You say, Punjab. Then, which police will have the jurisdiction to investigate? You appear keen that Delhi Police should investigate a murder that took place in Punjab. How is that possible," it asked Saron.
READ: Amritsar police to grill Lawrence Bishnoi in gangster Kandowalia's murder case
As Saron pressed that the transit order was passed overreaching the Supreme Court's order in 2021, the court retorted: "We don't know what that order is but this incident has taken place after the 2021 order. The obligation to investigate is with Punjab Police. Why can't he be taken to Punjab?"
At this, Saron pointed out another problem, contending that no lawyer in Punjab's Mansa court is taking up Bishnoi's case. He added that lawyers in Punjab have boycotted Bishnoi and are not willing to represent him.
To this, the court asked Saron to approach the Punjab and Haryana high court which could appoint a legal aid counsel for his client. "These legal aid counsel cannot refuse the case or they would be delisted from the panel. Please approach the high court and they will provide a legal aid counsel. They have a robust panel," it told the counsel.
Turning down Saron's plea to urgently hear the writ petition filed by Bishnoi's father, the court said it would come up for hearing on July 11.
Bishnoi is accused of being the key conspirator in the singer's murder. Moose Wala was shot dead on May 29 by assailants in Punjab's Mansa district, a day after the state government curtailed his security cover.
On June 14, a Delhi court granted Punjab police the transit remand of Bishnoi to take him to Punjab in the case. Punjab Police, in its application, claimed that Bishnoi was the key conspirator in the murder and that the confession statements of the arrested accused clearly pointed towards Bishnoi's complicity.
Bishnoi apprehended threat to his life and told the Delhi court that he may be killed in a fake encounter, following which the judge had directed the Punjab Police to take all measures for the safety and security of Bishnoi during transit.