PMO official conducts on-site inspection of Joshimath land subsidence
Published on Jan 15, 2023 06:37 PM IST
The PMO official assessed the effect of land subsidence and the relief and rescue operations in Uttarakhand's Joshimath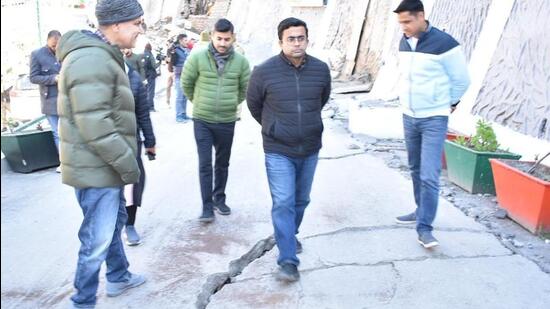 Mangesh Ghildiyal, deputy secretary at the Prime Minister's Office (PMO), reached Joshimath on Sunday and conducted an on-site inspection along with senior officials from the district administration to assess the effect of land subsidence in the city and the relief and rescue operations.
According to a bulletin released by the state government on Sunday evening, the number of houses that have developed cracks has increased to 826, with 165 of them declared unsafe. So far, 233 families have been shifted to safer locations including 17 families on Sunday. In total, 798 people have been shifted to safer locations.
The PMO official took stock of the buildings and houses affected by the land subsidence including Mount View and Malari Hotel which are being demolished in the Manohar Bagh ward area, and the cracks that have developed near the pillars of Auli Ropeway.
The deputy secretary also conducted an on-site inspection of the water leakage in JP Colony and took feedback from the officials about the damage to assets and enquired about the ongoing relief and rescue work.
District magistrate Himanshu Khurana gave detailed information about the relief and rescue operations carried out under disaster management in the landslide-affected areas.
Meanwhile, Ranjit Kumar Sinha, secretary disaster management department Uttarakhand also visited Joshimath town area on Sunday and carried out an on-site inspection of land subsidence-affected areas like Auli Ropeway, Manohar Bagh, Shankaracharya Math and JP Colony. He was accompanied by geologists and other senior officials of the administration.
Sinha instructed the officials concerned to continuously monitor the pattern of cracks and land subsidence in Joshimath.
He said a geophysical study of the affected area is being done by the National Geophysical Research Institute (NGRI), Hyderabad and added that NGRI is also studying the underground water channel to check where the water is coming from. "After the study, the geophysical and hydrological map made available by NGRI will be useful in Joshimath's drainage plan and slope stabilisation initiative," he said.
The secretary disaster management said, "We are moving step by step towards solving the problems of Joshimath area. Providing quick relief and rescuing the affected people is the first priority of the state government. The affected families are being shifted to safer places with urgency. The work of marking the affected buildings is going on continuously. Teams of geologists and experts are engaged in the work of investigating the causes of the land subsidence".
Sinha said the administration is in constant touch with the affected people in Joshimath. "Their basic facilities are being taken care of in the relief camps. Also, relief and compensation is being provided to the affected families on a daily basis," he said.