Snowfall in Joshimath triggers fear among land subsidence affected families
Jan 20, 2023 01:11 PM IST
A section of the locals in Joshimath alleged that the authorities didn't take the required steps despite the weather forecast
The season's first snowfall followed by rains has triggered fear among the residents in Uttarakhand's Joshimath that it may aggravate the land subsidence in the holy town as water could go into cracks and lead to their widening, with a section of the locals alleging that the authorities didn't take the required steps despite the weather forecast.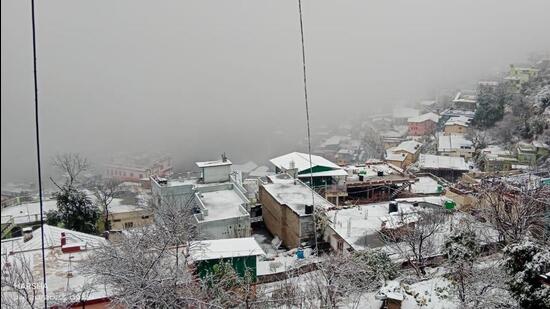 Atul Sati, convenor of Joshimath Bachao Sangharsh Samiti, said, "Even now, locals are living in more than 600 houses with cracks. With snowfall, the cracks in these houses would widen and deepen. They would also come under threat. There have also been shortcomings in the survey of houses and there houses with cracks that haven't been declared unsafe."
"When the underground water sources and drains become active after being recharged with snow, then the speed of land sliding will increase. In such a situation, there will be a serious danger to the houses with partial cracks and subsidence," said Sati. He added that they had asked the administration to shift people living in such houses immediately to safer locations but they didn't take the required action on time.
"I don't know for how long those living in hotels and relief camps would remain safe. There has been a forecast of snowfall in the coming days as well. Mr Sinha (Ranjit Kumar Sinha, secretary, disaster management), please apply the science to save the lives of people, not any company (NTPC)," he said.
Secretary, disaster management, Ranjit Kumar Sinha said, "We have all arrangements in place to tackle any situation even if it aggravates with snowfall. If more houses develop cracks, we will shift those living in them to safer locations."
The snowfall has also halted the mechanical demolition of two badly damaged hotels – Malari Inn and Mount View -- and a house in Manohar Bagh ward. According to affected families, it has become difficult for them, particularly children and the elderly, to live in relief camps due to biting cold amid snowfall.
Anjali Rawat, who is living in a relief camp at Nagar Palika Parishad, said, "With snowfall, we fear our house in Singh Dhar ward, which has developed cracks, may fall. It's very difficult to live in the relief camp in the biting cold, especially for our 9-year-old son. As the electricity comes and goes off, the heater is of no use."
As per Thursday's bulletin on land subsidence situation in Joshimath, 849 houses in all nine wards of the town have developed cracks with a survey to identify damaged houses still underway. 181 houses are in unsafe zone. The bulletin said 867 people belonging to 259 families have been shifted to safer locations.
Harak Singh Rana, an inspector with the State Disaster Response Force (SDRF), said, "We have stopped the dismantling of hotel Malari Inn and hotel Mount View due to snowfall. A house in Manohar Bagh is also being dismantled. It has also been stopped. Once the snowfall stops, we will see how to begin the operations." Not just this, the snowfall has also impacted the ongoing survey of houses across the town.
Chamoli district magistrate Himanshu Khurana said, "We have sufficient arrangements in place and our teams are on the ground. If the situation escalates, our teams will respond immediately. In relief camps, we have given quilts, heaters, and bonfire arrangements have also been made to protect them from cold." He added that they had to stop the ongoing survey, distribution of relief material, and dismantling of unsafe structures due to snowfall.
DP Dobhal, a retired scientist from Wadia Institute of Himalayan Geology, said, "It depends upon the amount of snow and melting of snow if the situation of land sinking in Joshimath would escalate or not."
"Today, there is light to moderate rainfall/snowfall in Joshimath and other parts of Chamoli district, while the activity would increase from January 23 night onwards and last up to January 28. It can reach heavy to very heavy rainfall/snowfall category. It can make the situation difficult in Joshimath as the town would see snow accumulation and approach would be difficult," Bikram Singh, director of India Meteorological Centre, Dehradun, said