Delhi MLAs to become highest-paid, assembly okays 4-fold pay hike
Updated on Dec 03, 2015 11:22 PM IST
The Delhi assembly passed a bill on Thursday that will make city MLAs the highest-paid legislators in the country.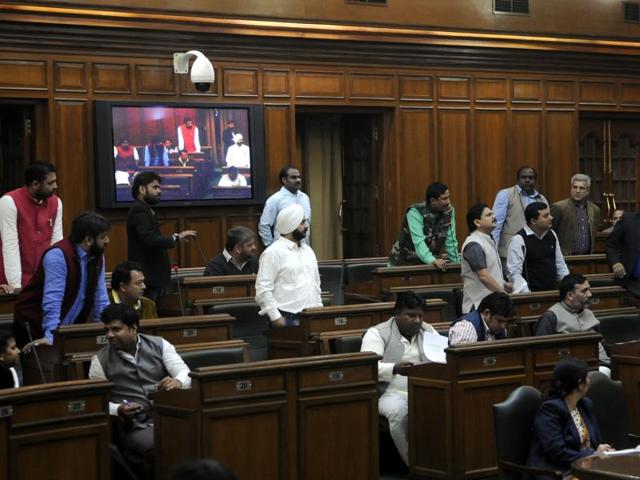 The Delhi assembly on Thursday agreed to a four-fold salary hike for city MLAs along with a substantial increase in allowances that together will take their monthly package to Rs 2.1 lakh from Rs 88,000, the highest in the country.
The bill, passed by the assembly with a voice vote, also proposes a commensurate 400% hike in ministers' salary. The salary of the leader of opposition, speaker, deputy speaker and chief whip will also be on par with that of the ministers. The ruling Aam Aadmi Party has 67 MLAs in the 70-member House.
The bill will now be sent to the Centre for approval. As Delhi is a union territory with a legislative assembly, all bills with financial implications have to be cleared by the Centre.
Once the Centre gives its nod, the basic salary of an MLA will rise from Rs 12,000 to Rs 50,000 and the monthly package will go up to around Rs 2.1 lakh.
Similarly, the basic salary of a minister will increase from Rs 20,000 to Rs 80,000. Clubbed with a sizable hike in allowances, a minister's monthly emoluments will amount to Rs 3.6 lakh from Rs 1.2 lakh.
Read | Delhi MLAs may become the highest paid, panel seeks fat raise
Speaking in favour of the bill, around a dozen lawmakers said many of them were facing problems in meeting their expenses because of their humble backgrounds. Others had left flourishing careers to be part of the janlokpal movement, they said. AAP was born out of the anti-corruption movement.
In October, a three-member independent committee chaired by former secretary general of Lok Sabha PDT Acharya had recommended two-and-half fold hike. The Members of the Legislative Assembly of the Government of NCT of Delhi (salaries, allowances, pension) Amendment Bill, 2015, was based on the committee's report cleared by the Kejriwal cabinet in November.
"We have accepted all the recommendations of the panel," deputy chief minister Manish Sisodia said while presenting the bill in the House. "The bill proposes to increase the salaries, allowances and other facilities of the members of the legislative assembly of Delhi so as to facilitate them to work effectively in their fields."
Salaries and allowances of MLAs vary from state to state. At present, a lawmaker in Himachal Pradesh is paid the most -- Rs 1.25 lakh a month, while an Odisha MLA has a monthly income of Rs 20,000, the lowest in the country.
Before walking out to register his protest, leader of the opposition Vijender Gupta said the steep hike would send a 'wrong' message to the electorate.
When the hike was proposed for the first time, AAP had come under severe criticism for getting caught in the trappings of power, the very culture it had promised to fight.
Read | AAP MLAs justify pay hike, cite soaring prices
Personalise your news feed. Follow trending topics