Centre sets a G20 task force on digital public infra
Rezaul H Laskar and Rajeev Jayaswal
Jan 24, 2023 12:48 AM IST
India has already said its G20 presidency will focus on bridging the digital divide, especially in developing countries, and ensuring greater benefits from digital technologies.
The government has created a G20 task force on digital public infrastructure to leverage India's achievements in the digital sphere to drive global efforts aimed at financial inclusion, health and education, people familiar with the matter said on Monday.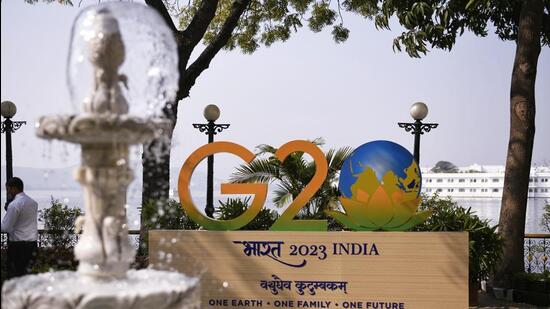 The task force, to be co-chaired by G20 Sherpa Amitabh Kant and entrepreneur Nandan Nilekani, will create a detailed map of India's digital infrastructure in finance, health, education, data, taxation, digital commerce and mobility, and shortlist key infrastructure that can be presented within various G20 tracks for adoption by other countries, the people said.
India has already said its G20 presidency will focus on bridging the digital divide, especially in developing countries, and ensuring greater benefits from digital technologies. At the last G20 Summit in Indonesia, Prime Minister Narendra Modi urged other leaders of the bloc of 20 largest economies to pledge to work for digital inclusion over the next decade. He said the principle of "data for development" will be an integral part of the overall theme of "One Earth, One Family, One Future" during India's presidency.
The "G20 Task Force on Digital Public Infrastructure for Economic Transformation, Financial Inclusion and Development" will help achieve the agenda for India's G20 presidency related to digital public infrastructure, financial inclusion, digital identity, innovative technology based services such as digital payments system like UPI, and governance frameworks, the people said, asking not to be named.
The other members of the task force will be secretaries of the department of economic affairs, department of financial services, ministry of electronics and information technology and external affairs ministry, deputy governor of the Reserve Bank of India, CEO of Unique Identification Authority of India, managing director of the National Payments Corporation of India and the chief economic adviser.
India's G20 presidency provides an opportunity to set and drive global discourse on key economic and developmental issues, the people said. A critical enabler for development is technology led economic growth. In this context, the people pointed to India's digital public infrastructure for accessing services in finance, health, education, e-governance and taxation.
"Digital revolution through JAM trinity (Jan Dhan, Aadhaar and Mobile) has not only empowered people, but has created an infrastructure to provide cash subsidies to the poor directly in their bank accounts," an official from an economic ministry said, requesting anonymity. The government has effectively used Jan Dhan bank accounts, Aadhaar unique identification numbers and mobile connectivity to provide assistance to the poor without any leaks, he said.
Given the government's focus on a people-centric agenda at the G20, India is keen to present domestic advances in digital for adoption by other countries or for use as a guidance framework, the people said. This will require focused actions to mobilise the support of other G20 members, including those of G7, they added.
The focus areas include publicly owned digital goods such as digital identity, access to bank services, fast retail payment system, and data-sharing protocol, market-friendly techno-legal regulatory frameworks, and involving the private sector for innovation and service delivery, the people said.
The task force's work will also facilitate the Global Partnership for Financial Inclusion (GPFI) working group in G20's finance track and the Digital Working Group (DEWG) in the Sherpa track, they said.
"The government is committed to transform India into a digitally empowered society and a knowledge-based economy by ensuring digital access, inclusion, empowerment and bridging the digital divide. Digital infrastructure is its backbone. The world has acknowledged India's prowess in this area during the Covid period when technology such as CO-WIN was used in the world's largest vaccination programme," the official cited above said.
Besides creating a map of India's digital infrastructure, the task force will identify possible global cooperation to ensure faster inclusion in emerging economies, improved targeting of fiscal measures, enhanced competition in the marketplace and protecting individual privacy.
The task force will also assess the Indian ecosystem's readiness to support global efforts and propose solutions so that innovations can be taken to other countries in a timely manner, and help frame a strategy to build support for India's digital public infrastructure within the G20 and other mechanisms. The task force will guide the work of the G20 working groups for a common finance and digital ministers' meeting, the people said.
While speaking at the last G20 Summit, Modi said digital technologies are crucial for tackling challenges such as poverty, climate change and health. "India's experience of the past few years has shown us that if we make digital architecture inclusive, it can bring about socio-economic transformation. Digital use can bring scale and speed," he said.
CO-WIN, an open platform for registration, appointment scheduling and managing vaccination certificates, has registered 110 crore people and has facilitated administration of 220 crore doses. Similarly, India's digital payment system has drawn the interest of many countries. The Unified Payment Interface (UPI) has onboarded 376 banks and facilitated 730 crore transactions worth ₹11.9 lakh crore.