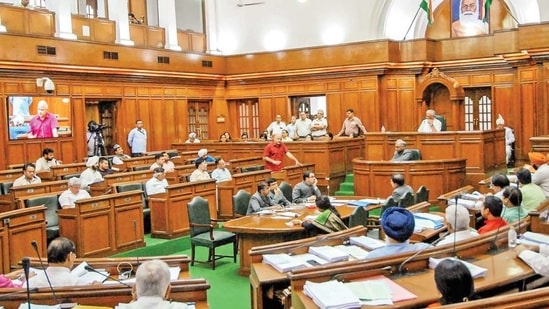 Delhi assembly's 2-day monsoon session begins today; farmers' protest on agenda
Delhi assembly begins its monsoon session today. It's expected to be stormy in there, with the AAP and the BJP likely to clash on a multitude of issues ranging from the farmers' protests to Covid-19 management and waterlogging in the national capital.
Written by Joydeep Bose
, Hindustan Times, New Delhi
PUBLISHED ON JUL 29, 2021 05:45 AM IST
The Delhi legislative assembly begins its two-day monsoon session on Thursday, more than four months after the first part of the session was adjourned sine die on March 12, earlier this year. As per the List Business for House sitting on Thursday, the Delhi assembly is expected to see stormy proceedings on its very first day as the ruling Aam Aadmi Party (AAP) intends to raise a host of different issues in the House -- including the recent appointment of Rakesh Asthana as the police commissioner of Delhi, the farmers' issues and the three contentious central agricultural laws, and the conferment of Bharat Ratna on late environmentalist Sunderlal Bahuguna.
Also Read | Delhi assembly to discuss appointment of Rakesh Asthana as police commissioner
The central government on Tuesday appointed Rakesh Asthana as Delhi police commissioner, giving him a one-year extension on the new post days before his retirement. Asthana assumed charge as the commissioner on Wednesday, amid accusations that the appointment was made allegedly in violation of Supreme Court guidelines.
AAP MLA Bhavna Gaur will table a motion at the Delhi assembly for conferring Bharat Ratna on environmentalist and Chipko Movement leader Sunderlal Bahuguna, a demand earlier raised by Delhi chief minister and AAP supremo Arvind Kejriwal.
Also Read | Confer Bharat Ratna on late Sunderlal Bahuguna: Kejriwal writes to PM
The opposition, too, is looking to corner the Delhi government on a multitude of issues, including the coronavirus disease (Covid-19) management in the national capital, poor public transport network, and water crisis, among others. According to reports, Bharatiya Janata Party (BJP) functionaries are likely to clash with their AAP counterparts at the Delhi assembly today over the issue of waterlogging in the national capital.
Delhi BJP chief Adesh Gupta has said that the party's local chapter will lead a protest on this day against the AAP government's alleged corruption and "scams" outside the assembly premises. The BJP unit in the national capital intends to corner the AAP government over issues such as the "DTC scam", and alleged corruption in the free ration distribution and education schemes, reports said.
The BJP has eight MLAs in the 70-member Delhi assembly, dominated by the ruling AAP, which has 62 members in the House.
Close