Delhi records minimum temperature of 8.4°C
Published on Nov 25, 2022 12:01 AM IST
Delhi on Thursday clocked a minimum temperature of 8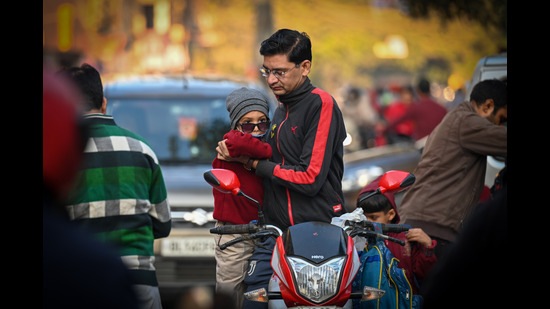 Delhi on Thursday clocked a minimum temperature of 8.4 degrees Celsius (°C) – three degrees lower than the normal for this time of the year, and the seventh straight day that the minimum was below the 10-degree mark.
The India Meteorological Department (IMD) attributed the cold spell to strong northwesterly winds.
"In the first half of the month, the minimum temperature was largely around the normal mark and it went above the normal in the second week of the month due to a western disturbance. However, in the second half of the month, the impact of western disturbances has been minimal and therefore, cold northwesterly winds have been more prominent, leading to a drop in temperature at night," said RK Jenamani, scientist at IMD.
On Wednesday, Delhi recorded its lowest minimum temperature of the season at 8°C. According to IMD, the city's minimum temperature is expected to hover between 8°C and 9°C till the end of the month.
In terms of the maximum temperature, Thursday was another sunny day, with a high of 27°C – one degree above normal. Delhi's maximum is likely to hover between 26 and 27 degrees Celsius until the end of the month.
Jenamani said that the northwesterly winds led to Delhi witnessing clear skies during the day, leading to ample sunlight heating up the surface. "Due to these northwesterly winds prevailing for a sustained period of time, there is very little moisture in the air and the lesser the clouds during the day, the more sunlight will reach the surface, making for warm days. The reverse happens at night time, when little to no cloud cover is unable to stop the heat from escaping," he said.
Meanwhile, the northwesterly winds led to a relative improvement in Delhi's air quality, with the Capital recording an air quality index (AQI) of 213 (poor), compared to the AQI of 237 recorded on Wednesday, according to the national bulletin released by the Central Pollution Control Board (CPCB) at 4 pm each day.
The CPCB classifies an AQI between 0-50 as 'good', between 51 and 100 as 'satisfactory', between 101 and 200 as 'moderate', between 201 and 300 as 'poor', between 301 and 400 as 'very poor' and over 400 as 'severe'.
However, the Early Warning System (EWS) for Delhi, a forecasting model developed by the Indian Institute of Tropical Meteorology (IITM) to be used by the Commission for Air Quality Management (CAQM), has predicted that the AQI is likely to deteriorate to the 'very poor' category by Friday.
"The AQI will deteriorate and reach the lower end of the 'very poor' category on Friday and then reach the upper end of the 'very poor' category on Saturday and Sunday," said the EWS. The forecast for the subsequent six days after Sunday is that the AQI is likely to remain oscillate between the 'poor' and 'very poor'.
Personalise your news feed. Follow trending topics