Delhi to impose week-long curfew from tonight
Updated on Apr 19, 2021 03:13 PM IST
The lockdown will include private offices as well, even as Lieutenant Governor Anil Baijal asked officials to strictly address the issue of migrant workers who might start congregating at transit points across the city to once again leave for their home states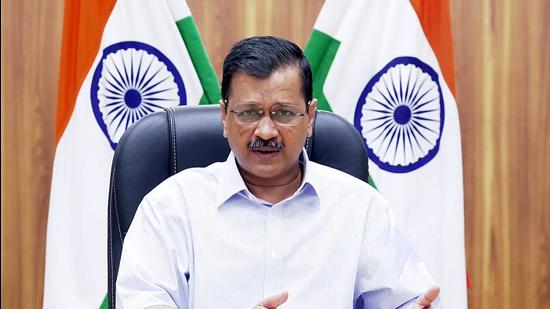 The Delhi government will impose a six-day curfew in the national Capital from 10pm tonight till 5am on April 26 to curb the spread of Covid-19 as the city reported around 23,500 fresh cases in the last 24 hours, chief minister Arvind Kejriwal said on Monday.
Addressing a press conference, the chief minister said Delhi's health infrastructure has been pushed to its limit with nearly 25,000 Covid-19 cases being reported every day. He said a lockdown at this time is required not just to break the chain of the fast spreading infection, but also to augment health infrastructure on a large scale including beds, oxygen supply and life saving drugs.
"Delhi's health system is now unable to take in more patients. It is now necessary to impose a lockdown in Delhi from 10 pm today to 5 am on Monday (April 26). Essential services will remain open, food and medicine shops will be allowed to operate, weddings will be limited to 50 guests. A detailed order will be released soon," he said.
The decision was taken in a Covid-19 review meeting held between Delhi lieutenant governor Anil Baijal and chief minister Arvind Kejriwal earlier in the day. Delhi already had witnessed a weekend lockdown and a daily night curfew from 10pm to 5am.
To prevent an exodus of migrant workers like last year, Kejriwal appealed to all such workers to stay where they are. "I am requesting all migrant workers with folded hands to stay where they are. This is a small lockdown. It is just a matter of six days. If you leave, you'll waste your time, energy and money in going and coming back only. I am there for you. We will take good care of you all. Please do not leave the city. I am hoping we will not need to extend this lockdown any further if all of you operate with us," he said.
Senior officials in the L-G office said Baijal has asked officials to strictly address the issue of migrant workers who might start congregating at transit points across the city to once again leave for their home states.
The order issued by chief secretary Vijay Dev on behalf of the Delhi disaster management authority (DDMA) stated: "The situation of Covid-19 in NCT of Delhi has again been reviewed and it has been observed that there has been a very sharp increase in Covid-19 cases along with very high positivity rate over the last few days and therefore, it is felt that in order to contain the fast spread of the virus, a curfew needs to be imposed in the territory of NCT of Delhi, except for essential activities/services, as an emergency measure, in order to break the transmission chain of Covid-19 virus and for the overall well being and safety of the people of Delhi."
The order stated that all offices -- Delhi government and the private ones -- except those falling under the exempted category (essential services) will remain shut during the six-day lockdown.
Also Read | Farmers' protest: Traffic remains diverted at several Delhi borders
"Except for those exempted/allowed movements and activities, all other private offices/establishments, shops, shopping centres, malls, weekly markets, manufacturing units, educational and coaching institutes, cinema and theatres, restaurant and bars, auditoriums/assembly halls, entertainment/amusement/water parks, public parks and gardens, sports complexes, gyms, spas, barber shops, saloons, beauty parlours, swimming pools (except being used for training of sports persons for national or international events), construction activities (except where labourer are residing on site), etc., shall remain closed during the curfew," read the order.
Central government and judicial officials, diplomats, journalists and doctors will be allowed to travel during the lockdown on production of a valid identity card. People coming from or going to airports, railway stations or interstate bus terminals will be allowed on production of a valid ticket. But all other workers -- grocery shop staff, internet workers, bank staff, delivery personnel, petrol pump workers, private security staff, among others -- and the staff operating religious places in the city will need to show a valid curfew pass to be allowed to travel.
The order clarifies that religious places will remain open but no visitors will be allowed. Marriages with 50 people will be permitted by showing wedding cards and funerals with 20 persons. Liquor shops will be shut.
Although the order does not specifically mention domestic helpers, it is advised that they are asked to not come if they live in far-off places as they might be prosecuted by the police.
People going for Covid-19 testing or vaccination will be allowed to travel with valid ID cards. People feeling sick or going for scheduled medical treatment will be able to travel on presenting a valid ID card or medical papers or a doctor's prescription.
The DDMA reiterated that public transport will be allowed only for those engaged in essential services. The order also imposed fresh restrictions on the passenger capacity in other modes of public transport such as auto-rickshaws and cabs. Auto-rickshaws, e-rickshaws, taxis, gramin sewa and phat phat sewa will be allowed only with two passengers in each such vehicle. Five passengers will be allowed in maxi cabs and RTVs will be allowed to carry up to 11 passengers. The Delhi Metro and state-run buses are already running at 50% of their capacity with no standing passengers allowed.
Officials in the L-G office said Baijal has also reached out to Union health minister Dr Harsh Vardhan for enhancing beds in the capital city, and Uttar Pradesh chief minister Yogi Adityanath with regard to getting more oxygen supply for Delhi.
In his press conference, Kejriwal also mentioned the shortage of beds, oxygen supply and life saving drugs such remdesivir. "We have been honest and transparent while sharing Covid data with the public. We didn't reduce tests. In fact, we have been consistent with our daily testing numbers because of which globally, hardly any city has such high tests per million as Delhi. Other states are reducing tests to reduce daily numbers. But, given the pace of the Covid surge, now we have started facing shortages. I have always been against a lockdown because it does not stop Covid, it only arrests its speed, but we will have to impose it now. So, please follow the lockdown," he said.
Resident Welfare Associations (RWAs) welcomed the move but said the curbs should have been imposed earlier. BS Vohra, president of east Delhi RWAs joint front said the restrictions have been imposed when the city's health infrastructure has collapsed.
"Since the past 15 to 20 days, we have been demanding a complete lockdown in Delhi as we had sensed trouble when numbers started rising from March-end. Now, things have been delayed to such an extent that the entire system has collapsed with no beds, no ventilators, no oxygen, no medicines all over the city. The Delhi government must take extra caution on the issues which may lead to huge mortalities. It must act on a war footing to save precious human lives. RWAs of Delhi will support the government in every possible manner," he said.
On Sunday, several trader groups pitched for voluntary closing of markets and resident groups demanded a short lockdown to arrest the surge in cases and break the chain of transmission.
The Confederation of All India Traders (CAIT) said the lockdown was a "much-needed" step. "The CAIT was continuously demanding a lockdown in Delhi in the wake of the rapidly increasing Covid cases. We have urged the L-G and the CM to nominate five nodal officers dividing Delhi into five zones namely, central, east, west, north and south Delhi to collaborate with CAIT team leaders for ensuring smooth passage of supply of essential goods to Delhi people. According to our estimate, each day there will be a business loss of about ₹600 crore per day in Delhi during the curfew," said Praveen Khandelwal, secretary general, CAIT.