India, Egypt look to boost Suez Zone ties
Jan 27, 2023 12:11 AM IST
The joint statement also reflected the importance attached by both leaders to enhancing cooperation in defence and security and counter-terrorism.
Egypt has offered to allocate land for Indian industries at the Suez Canal Economic Zone (SCZone) to be developed under an Indian master plan, as the two countries seek to ramp up bilateral trade and investment.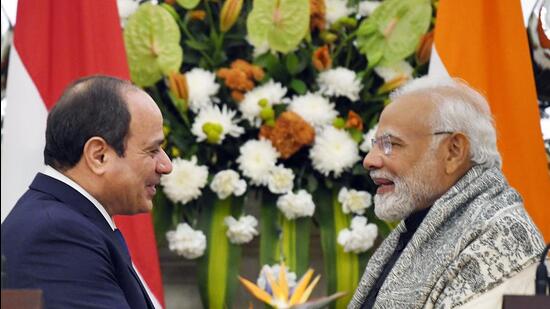 The issue of Indian participation in the SCZone figured in a joint statement issued at the conclusion of Egyptian President Abdel Fattah El-Sisi's three-day visit to the country. Besides holding talks with Prime Minister Narendra Modi on ways to revitalise the bilateral relationship, Sisi was chief guest at India's Republic Day celebrations on Thursday.
The joint statement also reflected the importance attached by both leaders to enhancing cooperation in defence and security and counter-terrorism. Modi and Sisi agreed terrorism poses "one of the most serious security threats to humanity" and condemned the use of terror as a foreign policy tool.
Both leaders welcomed the expansion of Indian investments in Egypt from the current level of $3.15 billion and agreed to encourage businesses to explore economic and investment opportunities in each other's countries, the joint statement said. The two sides also set a target of increasing annual bilateral trade from $7 billion to $12 over the next five years by diversifying the trade basket and focusing on value addition.
The joint statement said that Egypt "welcomes the flow of more Indian investments and promises to offer incentives and facilities" in line with its existing regulations and frameworks. "In this context, the Egyptian side considers the possibility of allocating a special area of land for the Indian industries in the Suez Canal Economic Zone...and the Indian side can arrange for the master plan," it said.
The Indian side said it will support this approach by encouraging Indian companies with potentials for overseas investments to make use of available opportunities in Egypt.
The SCZone megaproject had been in the pipeline for almost two decades but has received fresh impetus since Sisi became president in 2014. His government has funnelled billions of dollars of investments in recent years into upgrading infrastructure around the Suez Canal in the hope of attracting logistics, manufacturing, maritime services, IT and power industries, and creating new jobs.
SCZone consists of six ports and four industrial zones located along the Suez Canal, and Egypt plans to build new cargo terminals at two ports and upgrade the four other ports. Almost 18,000 ships a year, or 10% of world trade, pass through the canal.
During his visit, Sisi pitched Egypt as a gateway for Indian industries to access new markets in Africa.
The joint statement said the two sides would also cooperate in the "trade of commodities of strategic nature and of those required for food security in a manner that can help both sides to contain the repercussions of the global food crisis".
According to the joint statement, Modi and Sisi called for "zero tolerance" for terrorism and "for all those who encourage, support and finance terrorism or provide sanctuaries to terrorist and terror groups". They called for concerted and coordinated action by the world community to eradicate all forms of terrorism, including cross-border terrorism.
"They reiterated their condemnation of efforts, including by States, to use religion to justify, support and sponsor terrorism against other countries. They also called upon all countries to work towards rooting out terrorist networks and their safe havens, infrastructure, their financing channels and preventing cross-border movements of terrorists," the statement said.