On Dussehra, RWAs go for light and sound shows to simulate effigy burning
Chief minister Arvind Kejriwal is scheduled to attend the Dussehra festivities at Red Fort on Friday and participate in the light and sound show to mark effigy burning without firecrackers, said senior functionaries of Delhi's ruling party, the Aam Aadmi Party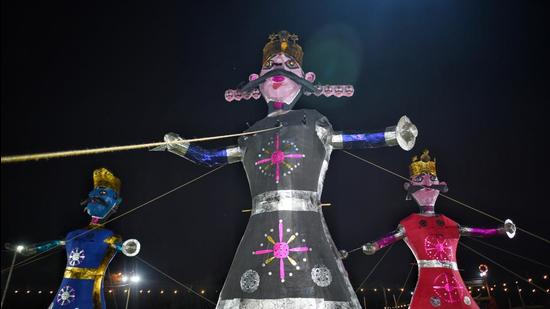 Updated on Oct 15, 2021 06:22 AM IST
, Hindustan Times, New Delhi
Abhishek Dey
Several resident welfare associations in Delhi, which also organise Dussehra events, have cancelled the effigy burning ritual this year, with the prominent ones going for light and sound shows in adherence to a complete ban on sale, purchase, storage and use of firecrackers in Delhi in the light of potential threat of severe air pollution.
"In usual years, we burnt 150-feet high effigies. This year, we have effigies that are 30-feet high. We have light and sound arrangements to act as substitutes for firecrackers. And we are sure that people will enjoy the show. But there will be no real firecrackers in the light of the ban imposed because of the air pollution which affects every resident," said Arjun Kumar, general secretary of the committee that organises the Luv-Kush Ramlila and Dussehra in the Red Fort ground.
Chief minister Arvind Kejriwal is scheduled to attend the Dussehra event at Red Fort on Friday, and participate in the light and sound show to mark effigy burning without firecrackers, said senior functionaries of the Aam Aadmi Party (AAP).
In Dussehra, effigies of Ravan, Meghnad and Kumbhkarn are commonly burnt in public spaces as a symbolic gesture to mark the victory of good over evil. The annual festival is celebrated across the city – in open grounds, markets, parks, etc – in different scales of grandeur. While some of the most prominent ones are celebrated at Red Fort, old Delhi, GTB Enclave, Shastri Park, Dwarka, and Rohini localities, most neighbourhoods in the city have some minimum arrangements with local resident welfare associations (RWA) acting as organisers.
However, most residents' bodies are not organising Dussehra this year.
"One reason is Covid-19 regulations. There can be crowding. There can be violations of mask compliance rules. What if something goes wrong? Who will take the responsibility? Resident welfare bodies are rather trying to avoid unnecessary risks," said Saurabh Gandhi, general secretary of United Residents of Delhi, a collective of around 1,800 RWAs in the city.
BS Vohra, president of the East Delhi RWA Joint Front, another collective of residents welfare bodies, said: "Another reason is the ban on firecrackers. People in Delhi have to suffer because of severe air pollution every year and now they are quite aware of it. Residents welfare groups are doing their best to avoid contributing to pollution. So, most of them are serious about the restrictions."
The complete ban on fire crackers is part of the Delhi government's currently applicable action plan to fight air pollution. A similar ban was imposed last year ahead of Diwali. This year, it was imposed on September 15, ahead of the entire festive season.
Close Story