Rarest of rare case: American black vulture spotted in Gurugram
Jan 28, 2023 11:17 PM IST
Birders across the National Capital Region (NCR) sighted a black vulture (Coragyps atratus) in Gurugram's Chandu Budhera – a sighting that is being described as the 'rarest of rare' because the bird is not found in Asia, or even Europe, making it the first such sighting for the region
Birders across the National Capital Region (NCR) sighted a black vulture (Coragyps atratus) in Gurugram's Chandu Budhera – a sighting that is being described as the 'rarest of rare' because the bird is not found in Asia, or even Europe, making it the first such sighting for the region. Experts believe that the bird probably escaped from the clutches of wildlife traffickers.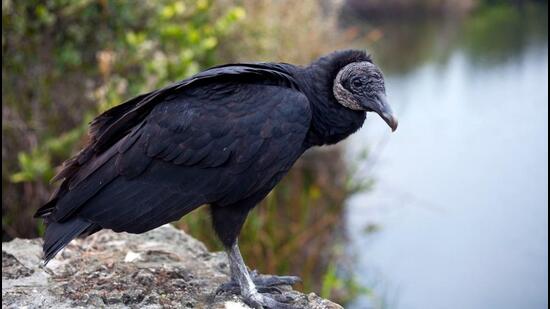 The bird was spotted around 500 metres from the Chandu Budhera water treatment plant on Friday afternoon, first by birder Anu Mathur, who then called another veteran birder, Colonel Pankaj Sharma, to identify the bird. Till Saturday, the bird was still in the same area.
Sharma says Mathur spotted bird at 3.15 pm on Friday and immediately called him, informing him that it was a bird she was having difficulty in identifying.
"Since she is very new to birding, she wanted a second opinion and I reached there soon after. It initially appeared to be an Egyptian vulture as the size and colour was similar to that of an Egyptian vulture, but the area around the neck and head was different. I looked it up online and confirmed it to be a black vulture, which is not found in this part of the world, so that makes it even more surprising," he says, adding it is most likely an escapee which was being trafficked.
ALSO READ: All problems of Earth will vanish when cow slaughter is stopped: Gujarat court
Black vultures are found only in parts of South and North America with no previous records of migration either. "It is not found in this part of the world and it also hates flying over water, so that makes the possibility of migrating even rarer. So far, the bird appears to be doing well though, as there are plenty of chicken carcass in the area," he added.
Nikhil Devasar, a regular birder around the National Capital Region, who also organises the Big Bird Day Count, says there was another record of the black vulture being sighted in Nepal in July last year, but past records show the bird has never been sighted in India. "There is a chance this is the same vulture that was spotted in Nepal last year, but even then, it is extremely unlikely that the bird migrated to Asia as it has never been found in this part of the world. We suspect that it could have been a part of someone's private collection, or it has escaped from a zoo, or during illegal trafficking of wildlife," he said.
ALSO READ: Nilgai who fears no khaki
Birder Pankaj Gupta, who also spotted the bird on Saturday at Chandu, said it appeared to be acclimatising itself to its new surroundings. "A lot of birders, including me, went to Chandu on Saturday after hearing about the bird. We do not plan to disturb it and only if it appears that the bird is not feeding or able to find food, will we look to alert the local forest and wildlife department to intervene. It appears that the bird has found the right habitat," he added.
Sohail Madan from the Bombay Natural History Society (BNHS), who has carried out multiple studies around vultures and birds of prey at the Asola Bhatti Wildlife Sanctuary in Delhi, says sighting such a vulture indicates trading of exotic birds. "This is an extremely rare sighting and indicates possible trafficking, at a time when the population of vultures is declining worldwide."