Tughlaqabad Fort: Eviction notice sent to 1,000 families
Jan 30, 2023 08:30 AM IST
The Supreme Court in February 2016 declared the entire Tughlaqabad Fort as protected, and directed ASI to not allow any land-grabbing or encroachment there. However, residents claim that the ASI notice was put up only recently
Around two decades ago, Shameem Akhtar (65) moved from Varanasi to New Delhi in search of work. Since then, he has been living in Bengali Colony, Tughlaqabad, in southwest Delhi.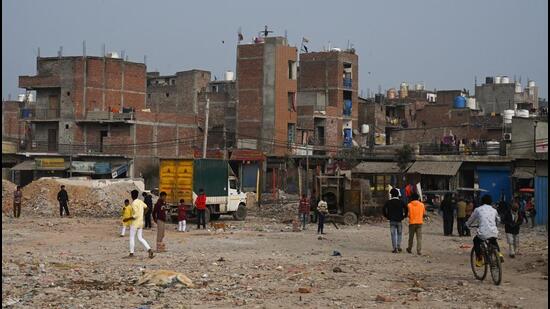 Living on rent for most of his life, Akhtar took a loan and used up his savings to buy a plot of land in the colony's Churiya Mohalla in 2020, unaware that the Archaeological Survey of India (ASI) had ownership of the land, which falls under the area of the Tughlaqabad Fort, a protected monument.
On January 11, ASI posted a notice on his house, directing him to vacate the area within a 15-day window that concluded on Thursday.
"I saved some money, took a loan, and purchased a small plot three years ago for some lakhs. The seller did not tell us that this land was disputed or that it was government owned. With great difficulty, we managed to construct a house for ourselves some eight months ago, and now they want us to vacate," said Akhtar.
Akhtar's is among the roughly 1,000 households -- some duped, some squatters -- in the neighbourhood to which ASI has issued eviction orders.
On Thursday, when HT visited Chhuriya Mohalla, residents pointed to an iron plaque, which mentions that the Tughlaqabad Fort is under ASI protection, and as per provisions of The Ancient Monuments and Archaeological Sites and Remains Act, 1958 and court rulings, the sale or purchase of any portion of land in the area is prohibited. The Delhi high court in November last week granted six weeks as "last indulgence" to ASI to remove encroachments from inside and around the monument.
The Supreme Court in February 2016 declared the entire Tughlaqabad Fort as protected, and directed ASI to not allow any land-grabbing or encroachment there. However, residents claim that the ASI notice was put up only recently. "This board was not even here until the MCD elections (on December 7). It has only come up recently. Why would anyone in their right mind pay to buy government land? We were not given any document outlining the land purchase. We used to get only a payment receipt and diary entry," said Akhtar.
Praveen Singh, superintending archaeologist, ASI Delhi Circle, said that an area of 2,661 bighas that is part of the monument was handed over to ASI by the Delhi Development Authority for maintenance decades ago. Singh said that, over the years, the land was encroached, and a legal battle ensued after a public interest litigation (PIL) was lodged. ASI had posted notices in compliance with court directions, he said.
Rupa Biswas who moved to the area from Kolkata a few years ago, said the government issued voter ID cards and Aadhaar cards on addresses in Churiya Mohalla, leading people into a false sense of security. "There are over 20,000 families. More than 1,000 notices have been issued. Most of us have Aadhaar cards, voter IDs and ration card issued with our address here. Why did the government make these documents?" she asked.
The residents are waiting for next course of action, with a demolition drive looming if they refuse to vacate.
Enjoy unlimited digital access with HT Premium
Subscribe Now to continue reading
Topics