Boy drowns in canal, missing for 2 days; NDRF to hold search ops
Published on Aug 09, 2022 12:28 AM IST
A seven-year-old boy allegedly drowned in an overflowing canal at Gadoli village in Sector 37D on Sunday evening, police said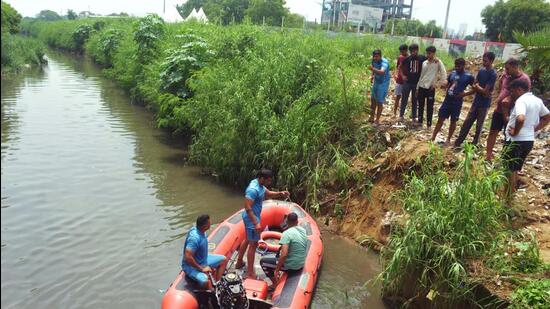 A seven-year-old boy allegedly drowned in an overflowing canal at Gadoli village in Sector 37D on Sunday evening, police said. Dishant Ladot was playing with other children on a road in front of his house along the canal when the incident took place at 4pm.
Search operations conducted on Sunday and Monday failed to locate the boy. Inspector Arvind Kumar, station house officer (SHO), Sector 10 police station, said that a team of National Disaster Response Force will reach Gadoli on Tuesday and take over search operations by 6am.
"Monday's search operation continued till 8pm but neither the boy, or his body could be found," he said.
Irate locals blocked the Gurugram-Pataudi road at Umang Bhardwaj Chowk at around 4.30pm on Sunday causing a massive traffic snarl between Basai Road and Hero Honda Chowk following the incident. The road was reopened at around 11.30pm on Sunday but villagers blocked it again at 8am on Monday. "The villagers have still kept the Gurugram-Pataudi road blocked," SHO Kumar informed at 10pm on Monday.
Rajesh Lado, Dishant's father, said that the boy went to the edge of the road to pick up something and slipped into the canal as water level was high due to heavy rain in Gurugram and neighbouring areas earlier in the morning. .
"He was immediately carried away by the current. His grandmother Bimla Devi and aunt Babita Devi saw him struggling to remain afloat from our house and cried for help. He suddenly went below water and drowned, hardly within a span of 10 seconds," he said. Rajesh also informed that no one in the vicinity knew how to swim and hence were unable to save the boy.
According to him, villagers have written to the authorities on several occasions to install fences on both banks of the canal as a safety measure but nothing was done. Surender Kumar, a villager, said that this was not the first such incident that took place in the canal.
"A car fell into the canal in November last year and two of its passengers drowned," he said. Kumar also said that a woman and a 10-year-old girl also fell into the canal but were rescued immediately by people who knew how to swim as the water level was low.
A traffic police official deployed at Umang Bhardwaj Chowk said that a large group of women, including Dishant's family members, sat below a temporary shed erected on the road leading to the village in protest. "Our sub divisional magistrate reached the spot at about 9pm on Sunday and tried to pacify the villagers but they didn't budge," the traffic official said. He informed that villagers insisted that they would allow traffic movement only after authorities erect fencing around the canal.
Ankita Choudhary, sub divisional magistrate, north Gurugram, visited the spot at 9pm on Sunday while Vishram Kumar Meena, additional deputy commissioner, Gurugram, and Amardeep Singh, additional commissioner, Municipal Corporation of Gurugram, took stock of the situation on Monday.
Choudhary said that the Gurugram Metropolitan Development Authority will soon get the canal banks fenced.
Dishant's grandfather Dhanpat Singh alleged that authorities woke up from their slumber and brought iron pipes for installing fences on both sides of the canal following the incident and protest.
"After 2010, metal net fencing with iron angles were put up but were stolen over time. Since then, we have been writing to the authorities to re-fence the canal," according to Singh.
Singh said that the canal was originally a 30m-wide seasonal river, according to revenue records known to villagers. He said it drew water from the Ghata and Jharsa Dam and was used for irrigation.
"It was diverted by a private firm from Sector 37 in 2008 after acquiring land on the other side of the canal for a residential project. The project got tied up in litigation and encroachment further reduced its width by half. Since 2012, most of Gurugram's sewerage water started getting dumped in the canal," according to Singh.
Personalise your news feed. Follow trending topics