Compost pits to come up in Gurugram parks, says MCG
Feb 01, 2023 12:15 AM IST
MCG commissioner PC Meena said that the exercise will also encourage residents to start segregation of waste and use compostable materials in the parks and society gardens. He added that MCG will also send notices to residential societies from February 10 onwards if they fail to adhere to the Solid Waste Management Rules, 2016, and have not turned into a 'zero waste' society
The Municipal Corporation of Gurugram (MCG) on Tuesday directed its sanitation department to construct compost pits in residential parks across the city to spread awareness about proper waste segregation, officials said. Teams have been tasked to identify public parks used by the local residents where compost pits can come up to reduce burden on Bandhwari landfill, officials added.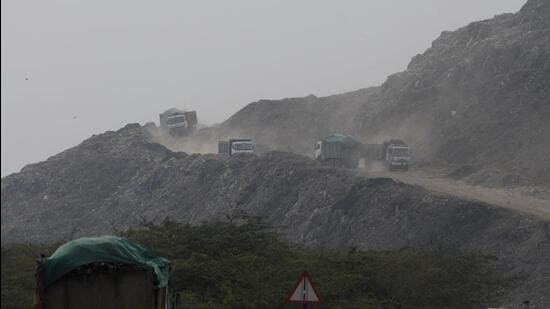 Officials said that teams from the sanitation wing will submit a list of the public parks within a week and composts will be prepared thereafter.
MCG commissioner PC Meena said that the exercise will also encourage residents to start segregation of waste and use compostable materials in the parks and society gardens.
"Our teams will be present in the parks for two hours every day to spread awareness, so that more and more residential societies engage themselves. This will be a revenue-based model for residents' welfare associations (RWAs) as there are many agencies who are keen on buying dry waste," Meena said.
Meena added that MCG will also send notices to residential societies from February 10 onwards if they fail to adhere to the Solid Waste Management Rules, 2016, and have not turned into a 'zero waste' society.
"Waste segregation is vital for protecting the environment and housing societies that do not adhere to the SWM Rules and segregate waste will be pulled up. Also, their waste will not be collected," Meena added.
MCG will also invite school students to visit the compost pits, so that they learn the process and those who will help their societies turn into 'zero waste', will be made brand ambassadors in March, said officials.
Gurugram dumps around 100 tonnes of garbage at the Bandhwari landfill on a daily basis. At present, the landfill has around 2.5 million tonnes of waste and is 37 metres in height, according to MCG officials.
Meena said 25% of waste collected from the city is from bulk waste generators (BWGs) and if they start processing their waste, there will be no burden on the Bandhwari landfill.
In December last year, the MCG had started conducting a survey to find out whether BWGs are adhering to the SWM Rules. The agency identified 615 BWGs of which only 355 were segregating their waste, officials added.