Faridabad to have first waste to methanol plant by December 2023
Published on Nov 22, 2022 10:44 PM IST
MCG officials said water and power will be supplied at subsidised rate to the plant. The concessionaire will have to take environmental clearance and obtain a licence for sale of methanol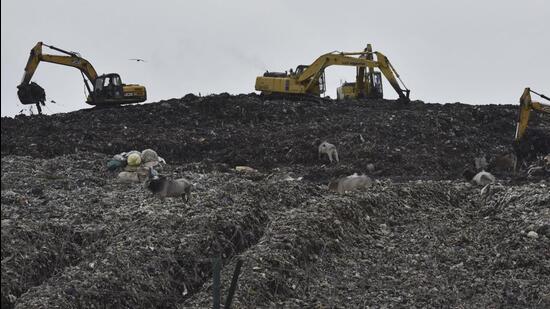 The Municipal Corporation of Gurugram (MCG) has identified 8 acres of land in Faridabad's Sihi to set up a ₹200 crore waste-to-methanol plant, where 500 tonnes of waste will be converted into 50 kilo litres of methanol daily, said officials, adding that the corporation is likely to sign an agreement this week with their door-to-door waste collection concessionaire Ecogreen so that waste is not sent to landfill and will be directly sent to the plant instead.
MCG joint commissioner Naresh Kumar said the project was finalised this month and Ecogreen will start construction by the first week of December. "Once the setup is done, the segregated wet and dry waste from Gurugram and Faridabad will be sent to this plant for the further processing. The plant is likely to generate methanol within 12 months and this will also help to clear the legacy waste. The plant will not only generate revenue for the state but also help in generating employments locally," he said.
Kumar said this will also resolve issues at material recovery facilities (MRFs) where waste is brought in a segregated manner and is then further segregated into various categories according to their reusability and recyclability. "The glass, plastic, metal, paper, cardboard, and rubber waste materials will be recycled at the plant. This is a step towards decentralising the waste collection process in the city and reducing the amount of waste that is transported to dumping sites," he said.
Sanjay Sharma, deputy chief executive officer of Ecogreen Energy, said they have collaborated with an Indo-Japanese company to set up the plant. "This plant will reduce the burden of segregation on MRFs and also process the legacy waste at Bandhwari landfill. We decided to set up the plant as in view of protests by residents against the setting up of MRF centres, where we are currently incurring losses. An MRF is a centre where waste is brought in a segregated manner and is then further segregated into various categories according to their reusability and recyclability. The shredding and drying of bio-dried Waste will also be done using machines," he said.
The Haryana State Pollution Control Board announced on November 16 that no more waste would be dumped at the Bandhwari landfill in the Aravallis from February 1 next year. MCG has already started collecting only segregated waste from households from November 21, in a sure signal that Gurugram is at long last getting serious about tackling its waste problem.
Methanol is commonly used as a fuel, antifreeze, and as a solvent, but can also be utilized to produce plastics, adhesives, and dyes. The most common method for producing methanol is from syngas, which is carbon monoxide and hydrogen.
MCG officials said water and power will be supplied at subsidised rate to the plant. The concessionaire will have to take environmental clearance and obtain a licence for sale of methanol.
Shubhra Puri,founder of Gurgaon First, a citizen initiative to promote sustainability, said, "This is a good move as methanol is a renewable fuel and can help generate revenue. However, MCG will have to ensure that the conversion is cost-effective, otherwise, public money could be wasted in this conversion," she said.
Personalise your news feed. Follow trending topics