New material recovery facility opens in Carterpuri
Updated on Nov 24, 2022 11:26 PM IST
An MRF is a centre where glass, plastic, metal, paper, cardboard and rubber waste are segregated and handed over to MCG-empaneled scrap dealers for recycling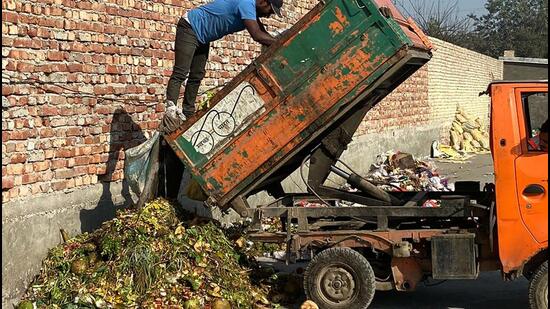 The Municipal Corporation of Gurugram (MCG) and its waste concessionaire Ecogreen opened a new material recovery facility (MRF) at Carterpuri in Sector 23A on Thursday, said officials.
An MRF is a centre where glass, plastic, metal, paper, cardboard and rubber waste are segregated and handed over to MCG-empaneled scrap dealers for recycling.
There are four MRF centres operational across the city whereas two have been shut after opposition from local residents.
The new facility has a capacity of processing 60 tonnes of waste daily and will receive waste from Palam Vihar, Sector 21, Sector 18, Sector 15 Part 1 and 2, Sector 31, Sector 32, Sector 40, Chauma village, Dhundaheda, Sector 21, 23 and 23A, Civil Lines and Sector 7, said officials.
MCG joint commissioner Naresh Kumar said, "At this centre, different waste materials will be segregated and this will expedite waste management in the area. Garbage will be segregated into eight different categories and a largescale compost unit has also been set up to convert the organic waste into compost."
"This centre will cater to the most challenging areas as some people are still giving us mixed waste and are not ready to segregate. Our teams are also picking up waste from public places to ensure that residential areas remain clean," he added.
Civic body officials said the site was changed after residents had protested against it and it took two months to start the operations.
According to Ecogreen officials, the facility in Carterpuri is spread across one acre. "Once the centre is fully functional, we will also install Trommel machines to help with mechanised screening and segregation of waste. We are making compost with the received wet waste and dry waste. Then it is further segregated into various categories according to utility, and recyclables are recovered. We are getting source segregated waste from nearby areas and ensuring its disposal every day," said Sanjay Sharma, deputy CEO of Ecogreen Energy.
The new centre has 14 composting pits that are used to make compost from the wet waste. There are also other areas for deep segregation of dry waste into other categories such as paper, cardboard, glass and plastics. "We are working towards handling the city's waste on the same day it is collected from households," Sharma said.
Residents of nearby areas welcomed the move. "The new centre will not only help segregate waste but also the waste will be picked in the early morning, leaving the lanes clean. We are spreading awareness in the area about waste segregation because the waste collection agent does not collect mixed waste and it keeps lying for a few days," said Bhim Singh, president of the residents' welfare association (RWA), Sector 22.
Dinesh Vashisht, president, RWA sectors 3, 5 and 6, said with the increase in MRF centres, waste collection will become more efficient. "There are fewer dump yards in the sectors and the number of people collecting waste has increased. We are helping the civic agency spread awareness about waste segregation and we are ensuring no resident dumps waste in public places," he said.
Recently, hundreds of residents in South City 2 and Ullawas village had protested against the recently opened MRFs managed by the MCG and Ecogreen, alleging that the composting pits at the plant were built in the open, spreading a foul smell. Some of the protesters also said that the plant was constructed without their consent no more than two feet away from their homes. Since then, the MRFs have been lying shut.
Personalise your news feed. Follow trending topics