Overcast sky in Gurugram, dry and windy conditions prevail
Updated on Jan 25, 2023 12:37 AM IST
The air quality in the city on Tuesday was recorded in the poor category, but was an improvement over the previous day, and 24-hour average air quality index was recorded at 259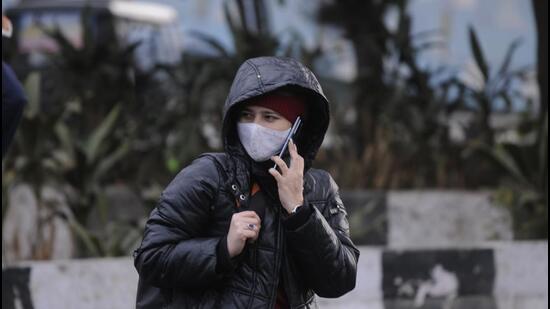 The city woke up to a cloudy morning on Tuesday with strong winds but dry weather for most of the day. However, some parts of the city received a light drizzle in the early morning.
The India Meteorological Department (IMD) in Chandigarh issued a warning on Tuesday for thunderstorms and lightning in isolated parts of south Haryana and also forecast scattered rain in parts of Haryana, Punjab and Delhi on Wednesday.
The Met department recorded the maximum temperature in Gurugram on Tuesday at 19.5 degrees Celsius, down by 4.9 degrees Celsius from the previous day. The minimum temperature was recorded at 12.4 degrees Celsius, an increase of 4.4 degrees Celsius over Monday.
"A fresh western disturbance is likely to affect northwest India from the night of January 27. It is very likely to cause light/moderate fairly widespread to widespread rainfall/snowfall over Western Himalayan Region and light/moderate isolated to scattered rainfall over plains of northwest India on January 28 and 29," IMD said in its forecast on Tuesday.
It further said there will be no major change in minimum temperature over most parts of northwest India till January 26, and temperature will drop by two to three degrees Celsius over the next two days. It also said the minimum temperature was in the range of six to ten degrees Celsius over most parts of Punjab and many parts of Haryana, Chandigarh and west Rajasthan.
The air quality in the city on Tuesday was recorded in the poor category, but was an improvement over the previous day, and 24-hour average air quality index was recorded at 259. The AQI in the city was 296 (poor) on Monday.
The Central Pollution Control Board classifies an AQI between 0-50 as 'good', between 51 and 100 as 'satisfactory', between 101 and 200 as 'moderate', between 201 and 300 as 'poor', between 301 and 400 as 'very poor' and over 400 as 'severe'.
In its forecast, the System of Air Quality and Weather Forecasting and Research on Tuesday said air quality is likely to improve but will remain within the 'very poor' or 'upper end of poor' categories for the next three days in Delhi and the National Capital Region. "Upper level (700-800 m) wind flow from southeast/east direction is expected to improve air quality," it said.