Shopkeeper arrested for selling e-cigarettes, banned foreign cigarettes
Published on Nov 22, 2022 10:40 PM IST
The market value of the banned cigarettes and e-cigarettes recovered from the possession of the suspect is more than ₹1 lakh, said police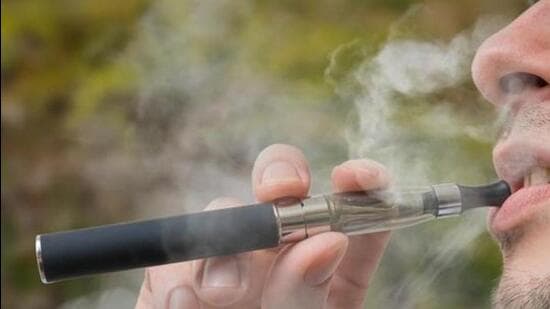 A joint team comprising officers of the Gurugram police, chief minister's flying squad and health department raided a shop in Palam Vihar's Vyapar Kendra on Monday, and arrested a shopkeeper for allegedly selling e-cigarettes and banned foreign cigarettes.
The suspect was identified as Sanjay Kumar, a resident of Ashok Vihar Phase 3 in Sector 5, said police.
The team of officers recovered 60 e-cigarettes, sold for ₹1,900 each and 180 boxes of banned foreign cigarettes. The market value of the banned cigarettes and e-cigarettes recovered from the possession of Kumar is over ₹1 lakh, said police.
Inderjeet Yadav, deputy superintendent of police (DSP) with the chief minister's flying squad, said the raid was conducted after the police received a tip-off that a shopkeeper was charging hefty amounts for the sale of these banned cigarettes. "Kumar bought these cigarettes from Delhi and sold them at his pan shop in Vyapar Kendra illegally," he said.
A case was registered at the Palam Vihar police station Monday night and officers will take further action against the suspect under the Cigarettes and Other Tobacco Products Act (COTPA) and the Prohibition of Electronic Cigarettes Act.
Personalise your news feed. Follow trending topics