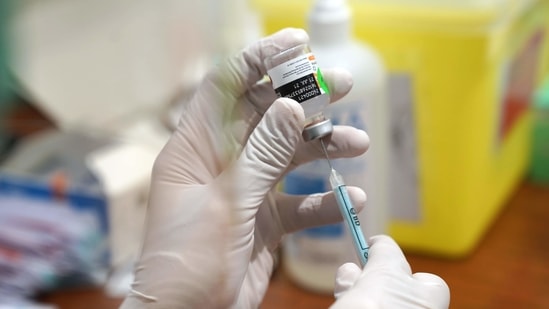 Tug-of-war between Rajasthan govt, Centre over Covid-19 vaccine supply
The state is left with just two days of Covid-19 vaccine stock, a claim rejected by the Union health ministry.
UPDATED ON MAR 09, 2021 11:34 PM IST
The Rajasthan government and the Centre are fighting over the Covid-19 vaccine with the state claiming a shortage in vaccine stock.
Rajasthan, which is among the top states in India's success story of Covid-19 vaccination is now facing a shortage of vaccines. The state, which is vaccinating 2.5 lakh people per day, is currently is left with only two days of stock.
State health minister Raghu Sharma on Tuesday said for the phase-II vaccination, the government of India estimated 67 lakh people and supplied around 30 lakh vaccines. "We have vaccines for two more days, if we don't get more, the drive would stop mid-way. Today, 85,000 doses have been sent to Udaipur and 6.78 lakh doses expected tomorrow," he said.
"Of the 30 lakh vaccines, 2.15 lakh was sent to the Army, around 22 lakh have been used for vaccination while one lakh doses got wasted. The state is now left with around 5 lakh doses which would roughly last two more days," he said.
Also read: 'Dream came true...' - Girl after being appointed sub-inspector by Gehlot govt
Sharma said earlier, some frontline and health workers are also many of which are also supposed to receive their second vaccine jab. "The GoI should provide us with buffer stock. We have a cold chain and required infrastructure but the vaccines are to be provided by them. The state is performing well in the vaccination drive but to maintain it more vaccines are required," he said.
"I have spoken to Union minister Harsh Vardhan and apprised him of the situation. He has assured to look into it. Rajasthan is conducting 25 per cent of the country's vaccination," said the health minister.
The state has requested the Centre to supply 6 million additional Covid-19 vaccines.
Meanwhile, The Union health ministry on Tuesday clarified that there is no shortage of Covid-19 vaccines in Rajasthan, a day after some news reports claimed so. These reports cited a communication from Rajasthan's health minister Raghu Sharma to the Centre seeking more vaccine doses.
"There have been some news reports suggesting an impending shortage of Covid-19 vaccine doses in Rajasthan. The factual position is that there is no shortage of the Covid-19 vaccine with the state at present. Rajasthan has been supplied 37.61 lakh doses and has consumed only 24.28 lakh doses till yesterday night," the ministry said in an official release.
It also said that the central government has been closely monitoring the Covid-19 vaccine supply to all states and Union territories (UTs).
The central government has been providing vaccine doses to all the states and UTs as per their requirement and consumption pattern, the ministry added.
Close