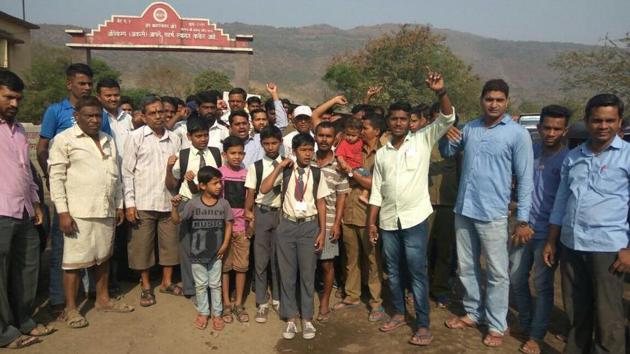 Kharghar villagers protest against mining work, block Tata Hospital road near Mumbai
UPDATED ON APR 05, 2018 02:17 PM IST
Around 150 villagers from Owe Camp Village in Kharghar blocked the Tata hospital road for more than three hours, as they were protesting against mining work that has been going on in the area since years and has disturbed the peace of the villagers.
Fed up with repeated requests to the mining officials, the villages planned the protest and blocked the road to affect the movement of mining vehicles, which use the same road to pass. The villagers have made it clear that if officials don't take cognizance of the issue, then they might plan a bigger protest in days to come.
Owe camp has a population of around 3,000 people, who had been rehabilitated from Koyna dam way back in 1960. Ramchandra Jadhav, 33, a local, said," We were rehabilitated in the area in 1960, and mining work started in 1995. Initially things were, slow but since the last five years, they have sped up their work and blasting is done thrice a day- morning, afternoon and evening,"
"We have been running to the officials both at City Industrial Development corporation (Cidco) and Panvel City Municipal Corporation (PCMC) but to no avail. None paid attention to the issue," he said.
Sunil Salunkhe, 30, another resident, said, "Continuous blasting and mining work has disturbed our life. It has led to increased air pollution and ailments related to it. Many locals are going suffering from respiratory problems. The blasting has also damaged our homes to a large extent. We had no option to protest and highlight our plight."
The locals have written a letter to PCMC chief Sudhakar Shinde, who is yet to respond to the issue. Sandhya Bawankule, deputy commissioner, PCMC, said, " We will have to look into the issue, as mining work is being looked at by Cidco. We will take measures once we get a detailed report about the issue."
Close