Bengal minister Subrata Mukherjee, 75, dies. Heartbroken, says Mamata Banerjee
Bengal minister and senior TMC leader Subrata Mukherjee was admitted to hospital with severe breathing complaint on October 25.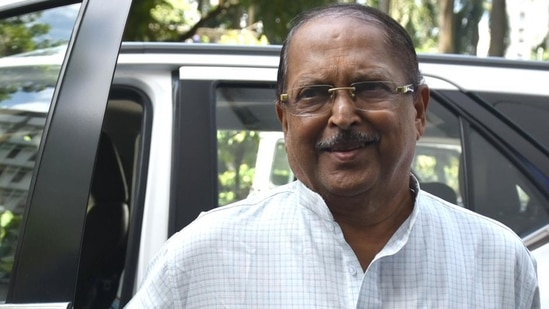 Updated on Nov 05, 2021 05:17 AM IST
KOLKATA: Veteran Trinamool Congress (TMC) leader and Bengal minister Subrata Mukherjee, died of a heart attack on Thursday night at the state-run SSKM Hospital in Kolkata. He was admitted to the hospital on October 25 after he complained of a breathing problem.
"After doctors detected a blockage in Mukherjee's artery, they implanted a stent. He was recovering but his condition suddenly deteriorated this evening," said Bengal minister Aroop Biswas.
Mukherjee was rushed from the hospital's Woodburn Ward to the intensive critical care unit of the cardiology department on Thursday evening but doctors could not save him. He was declared dead around 9.22 pm, Biswas said. He is survived by his wife.
"I am heart broken. His contribution was immense. I cannot imagine he is no more," said chief minister Mamata Banerjee who was performing Kali puja at her residence in south Kolkata's Kalighat area when she heard the news and rushed to the hospital.
Subrata Mukherjee, who was Bengal's minister of panchayat and three other departments, served as mayor of Kolkata from 2000 to 2005 when the Left Front was in power. He was counted among the best mayors the city has had because of his administrative skills.
Mamata Banerjee always referred to Mukherjee as "Subrata Da" (Dada means elder brother in Bengali) as he was not only senior to her in the Congress to which they both belonged before TMC was formed in 1998 but also figured among those who groomed her during her early years in the Youth Congress.
"His body will be preserved at Peace Heaven tonight. Tomorrow the body will be taken to his residence and then kept at some places so that people can pay their last respects before the cremation. I will not be present anywhere. I cannot bear the sight of his lifeless body. I could never accept the death of those I loved," said Mamata Banerjee before leaving SSKM hospital.
"I always found Subrata Da smiling. I saw many ups and downs in life but this is a loss that I cannot handle," the chief minister added.
TMC ministers, legislators and members of Parliament started arriving at SSKM hospital after 10 pm. Many of them broke down, saying they lost their guardian.
All of them described Mukherjee as a colourful person who had an identity beyond Bengal's politics in which he never lost relevance since the late 1960s. He became a minister in the Siddhartha Shankar Ray government in 1972 when he was only 26.
Opposition leaders also paid tributes to Mukherjee, describing him as an evergreen figure.
"Subrata Mukherjee's death marks the end of an era. What impressed me most is that he was a friend to everyone, even members of parties he was opposed to. The word enemy did not exist in his life," said Dilip Ghosh, national vice-president of the Bharatiya Janata Party that targeted Mukherjee after he was named in the charge sheet filed by the CBI in the Narada bribery case and arrested in May along with three other TMC leaders.
TMC state general secretary Kunal Ghosh recalled how the CBI probe and the arrest affected him.
"He could not accept the arrest. He used to say how it deeply hurt him. The episode probably affected his health as well," said Ghosh.
"Bengal lost one of the most successful politicians and I lost a friend of 54 years. There is a void," said Saugata Roy, one of the most senior Lok Sabha members of the TMC.
Close Story
Personalise your news feed. Follow trending topics