Landslide kills woman, her two children in Sikkim
Updated on Jun 28, 2022 11:25 AM IST
Officials said that the woman and her two sons were sleeping in their hut in Rongey Dokan Dara when the landslide hit around 1 am on Tuesday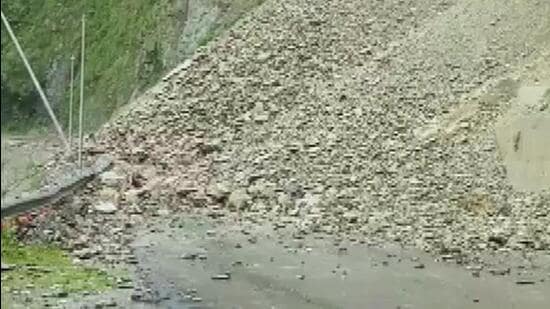 A woman and her two children, aged 10 years and seven months, were killed in a landslide triggered by heavy rains near Gangtok in Sikkim in the early hours of Tuesday. Officials said that the woman, identified as Doma Sherpa (27) and her two sons were sleeping in their hut in Rongey Dokan Dara when the landslide hit around 1 am. Their hut was completely buried in the landslide, they said.
"All three bodies have been recovered from under the debris," said Rabin Sewa, sub-divisional magistrate of Sikkim's capital Gangtok, who reached the spot with the rescue team.
Bimal Mangar, the father of the children, is a driver by profession and was in West Bengal's Siliguri when the incident took place.
Also read:201 pilgrims died during Char Dham: Govt data
Sikkim and large areas of north Bengal, including Darjeeling and Kalimpong hills, have been experiencing heavy rainfall over the last few days, triggering landslides at multiple places.
"National Highway 10 (NH10) has been hit by 22 new landslides in north Bengal," said Subodh Chettri, executive engineer of PWD Division 9, which is the custodian of NH10 in West Bengal.
NH10, which is the lifeline of Sikkim, often remains closed during monsoon. It was open till reports last came in. On Monday morning, the highway was closed for almost four hours.
However, there have been no reports of loss of life and property from any other part of the region.
Close Story
Personalise your news feed. Follow trending topics