Women farmers from Bundelkhand host Spanish princess
Published on Nov 25, 2022 12:37 AM IST
The women, part of the Basant Mahila Farmer Producer Organisation, spent about half of the day on Wednesday with Princess Cristina of Spain, the younger daughter of the former king. Basant Mahila Farmer Producer Organisation was formed earlier this year as part of the Work4Progress programme launched through Actionaid in 2020. The initiative is supported by the La Caixa Foundation, a non-profit banking organisation based in Spain, of which the princess is a part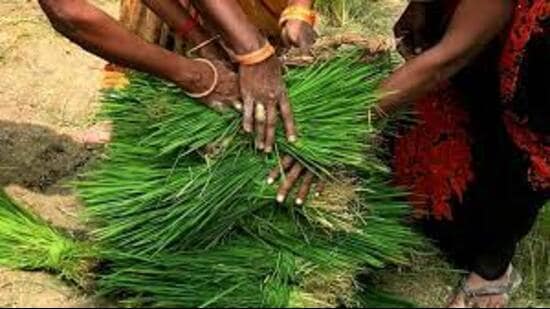 LUCKNOW: For the women farmers in Jhansi, it was a lifetime opportunity as they came face-to-face with a princess. These women, part of the Basant Mahila Farmer Producer Organisation, spent about half of the day on Wednesday with Princess Cristina of Spain, the younger daughter of the former king.
The Basant Mahila Farmer Producer Organisation was formed earlier this year as part of the Work4Progress programme launched through Actionaid in 2020. The initiative is supported by the La Caixa Foundation, a non-profit banking organisation based in Spain, of which the princess is a part. The princess also inaugurated the processing unit for dal and spices as well as the agri-junction (a shop where they will package and sell their products) located in Simrawari village.
The princess was welcomed by the women of the farmers' group and members of the Actionaid team, along with folk songs from Bundelkhand performed by members of the Sahariya tribal community. The director of Basant FPO, Laxmi said, "Women entrepreneurs are working with enthusiasm for their livelihood with the support of Basant Women FPO. I look forward to strengthening and capacity-building women of our FPO and connecting more women with us."
This initiative is meant to create awareness and encourage sustainable living by empowering women from marginalised communities to access government schemes for their benefit. The programme also distributes goats, chicks, foundation seeds, vegetable seeds, fruit plants, organic fertilisers and other materials to these families to help them start independent businesses. Multiple women present at the meeting shared their experiences of being new entrepreneurs and the struggles in the process. They spoke of being financially dependent on family members, not having the power to make decisions, malnutrition and other problems.
On hearing and acknowledging their stories, Marta Solsona, programme manager, La Caixa said,"The main objective of this initiative is to help women assert leadership in matters that concern them, their families and their communities. Women's leadership goes a long way to strengthen solidarity between economies, collective enterprise and sustainable livelihoods."
The La Caixa team is visiting various states in India to tour the projects undertaken by Actionaid.
Personalise your news feed. Follow trending topics