Yogi opens new visa application centre in Lucknow
Feb 04, 2023 09:40 PM IST
The new centre will facilitate visa applications for 10 countries namely - Austria, Netherlands, Czech Republic, Switzerland, Estonia, Hungary, Portugal, Germany, Italy and Saudi Arabia
Chief minister Yogi Adityanath inaugurated a visa application centre by VFS Global (Visa Facilitation Services), a week ahead of Global Investors' Summit, in Lucknow, on Saturday. Zubin Karkaria, CEO, VFS Global, was present on the occasion.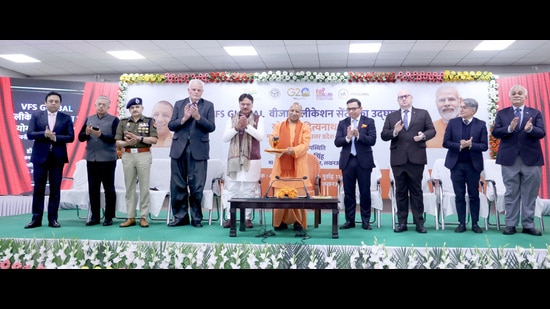 The new centre will facilitate visa applications for 10 countries namely - Austria, Netherlands, Czech Republic, Switzerland, Estonia, Hungary, Portugal, Germany, Italy and Saudi Arabia. The CM congratulated and appreciated Karkaria for having become a global name in the field.
He noted that not only people of Lucknow, but people of the entire state will benefit from this development. He also mentioned that VFS Global is looking after passport and visa services for India in 12 countries around the world and has as yet undertaken nearly 2 crore visa applications since the company's inception in 2001.
VFS Global is reportedly equipped to handle over 1,20,000 visa applications yearly. The CM noted that the establishment of this company will provide employment opportunities for residents.
In his address, Singh appreciated the Yogi government for facilitating such developments in the state. He stressed that among other progressive strides, despite having the largest population in India, the state has also become the safest place to live in India, and ranks second in the country when it comes to economy.
"The Yogi government has taken many measures in the social security sector, be it for widows, scholarships for students and other underserved communities," said Singh.
He posted a series of tweets on the inaugural event, mentioning that the visa application centre "will be equipped with state-of-the-art facilities, and can process 1.2 lakh applications per year."
Karkaria in his opening address informed that VFS Global in collaboration with Indian Hotels Company Limited will train the youth of the state in hospitality services, in keeping with the skill development programme of the state government.
The centre in Alambagh is still under construction, however, the centre will reportedly start accepting visa applications from February 9. The high commissioner of Malta, Croatia's ambassador to India, the director general of police, MLA Rajeshwar Singh among other foreign and national dignitaries were also present at the event.