Air pollution in city this winter significantly worse than last season
Jan 30, 2023 12:44 AM IST
Since November 2022, the city has already witnessed 36 days with 'poor' AQI, suggesting a sharp uptick in the concentration of airborne pollutants. Such a high number of 'poor' air days has not been witnessed by the city in at least four years, per CPCB data
Mumbai: Air pollution in the city this winter is significantly worse than it was last season, shows data available from the Central Pollution Control Board (CPCB). For example, between November 2021 and January 2022, Mumbai witnessed a total of 23 days with 'poor' air, when the air quality index (AQI) settled at a value between 200-299.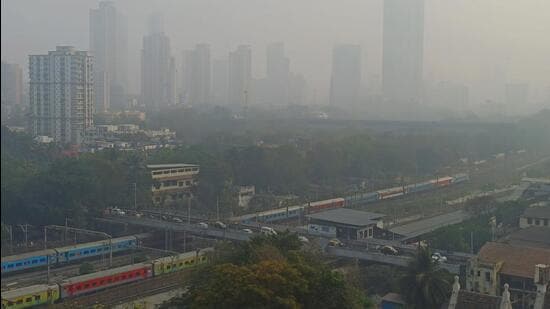 Since November 2022, the city has already witnessed 36 days with 'poor' AQI, suggesting a sharp uptick in the concentration of airborne pollutants. Such a high number of 'poor' air days has not been witnessed by the city in at least four years, per CPCB data.
Another worrying statistic which emerges from the data is this: Mumbai has not seen a single day of 'satisfactory' air since October 22 last year, when the AQI settled at 79. Between November '22 and January '23, the city's lowest AQI value was 117 on December 17. In the preceding winter, Mumbai saw 12 days of 'satisfactory' air between November and January, which gave citizens some respite, which has not been the case this ongoing season.
An AQI of 100 to 199 is considered 'moderate', while 50 to 99 is considered 'satisfactory' and below 50 is considered 'good'. AQI in excess of 200 is considered 'poor', above 300 'very poor', above 400 'severe' and above 500 is considered 'severe plus'. As per the CPCB's classification, a 'satisfactory' AQI can cause "minor breathing discomfort to sensitive people", while 'moderate' air triggers breathing issues in "people with lung, asthma and heart diseases".
A 'poor' AQI range -- which more people in the city have been exposed to recently -- can cause "breathing discomfort to most people on prolonged exposure." Evidence of this outcome has been reported by HT over the past few weeks, with pulmonologists and paediatricians raising alarm over the increasing number of people experiencing aggravated symptoms of asthma, allergic cough, chronic obstructive pulmonary disorder and shortness of breath.
"We are seeing a lot of people presenting with asthma-like symptoms for the first time in their life," said Dr Lancelot Pinto, consultant pulmonologist and epidemiologist at PD Hinduja Hospital, Mahim, who emphasised that the sheer quantity of atmospheric dust that the average Mumbaikar is exposed to this winter is unprecedented in recent memory.
Air quality experts agreed with this. "There is no doubt that the current winter season is possibly the most polluted in the last four to five years. The reason for the sudden spike in the current pollution cycle is part of a larger meteorological phenomenon which needs to be studied further. La Nina conditions, referring to cold ocean temperatures in the Equatorial Pacific, are now prevailing for the third consecutive year and are expected to become more prominent in the near future due to climate change. This has led to extremely calm winds around the Mumbai Metropolitan Region and negligible dispersal of pollutants," said Gufran Beig, project director.
Hindustan Times compared data from 12 air quality monitors (with sufficient uptime) across the city for the period between November to January, across the winters of 2021-22 and 2022-23. In this period, particulate matter concentrations (PM2.5 and PM10) were significantly higher (when compared with the same time frame last year) in eight out of twelve weeks -- see accompanying data.
To give one instance, the average daily measure of PM10 between January 10 to 17 last year was 118ug/m3, which shot up to 177ug/m3 between the same dates in 2023. The average daily measure of PM2.5 during the same period shot up from 68ug/m3 last year to 108ug/m3 this year.
"It's very likely that this increase is because of emissions at source, including construction work and vehicles, intensifying. But meteorology is playing a big role too. During this November to January period, Mumbai used to see a reversal of wind directions at least every three to four days, but over the past few years, this happens only once every 15 days or so. This affects the ability of the city to clean its air. And because winds have been blowing predominantly from North India, the import of transboundary dust from more polluted regions could also be exacerbating the local situation," Beig said.