HC asks authorities to verify wetland status of Lotus Lake
Jan 19, 2023 12:52 AM IST
The Bombay high court has directed the State Wetland Authority to confirm whether Lotus Lake in Nerul, Navi Mumbai, is a verified wetland as part of the National Wetland Inventory Atlas (NWIA)
Navi Mumbai: The Bombay high court has directed the State Wetland Authority to confirm whether Lotus Lake in Nerul, Navi Mumbai, is a verified wetland as part of the National Wetland Inventory Atlas (NWIA).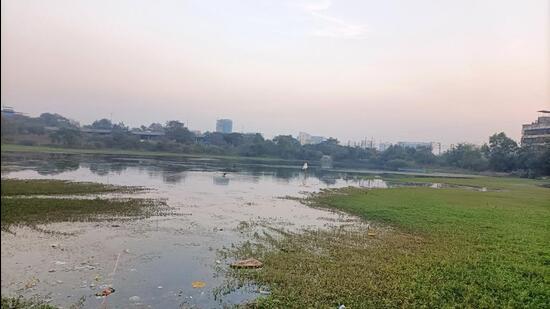 Hearing a public interest litigation (PIL) filed by advocate Pradeep Patole seeking to protect the lake as a wetland, justices RD Dhanuka and MM Sathaye put the onus of confirming the wetland status on the state government body.
Patole in his petition argued that the lake figure in the National Wetland Inventory Atlas and submitted documents supporting his claim.
Patole said, "The lake has been under attack due to dumping of debris by miscreants and chestnut farming for liquor making. The authorities concerned ought to protect the waterbody. Moreover, the Supreme Court has clearly directed to protect the 2.5 lakh wetlands listed in the atlas."
Two other aspects related to the lake—the debris issue and construction by a private firm—were also discussed in the court order.
The HC noted that the City and Industrial Development Corporation (CIDCO) has already submitted that it would act against the construction.
The court has also asked the firm to clarify if the construction falls within the wetland and whether the company sought any prior permissions for the same. The judges also made it clear that the company would have no rights to claims if the wetland status was confirmed.
As regards to debris dumping, the Navi Mumbai Municipal Corporation (NMMC) explained in its affidavit that the muck has been cleared. The civic body has also made a commitment that it would check fresh debris dumping in the lake.
The court fixed the next hearing for February 27.
Meanwhile, NatConnect Foundation has requested the Union Ministry of Environment, Forest and Climate Change (MOEFCC) to publish a proper list of wetlands as per the latest National Wetland Decadal Change Atlas prepared by the Space Application Centre.
The atlas, which was uploaded on the MOEFCC on February 3 last year, is a maze which a common man cannot decipher, NatConnect director B N Kumar said. Even government agencies are taking advantage of this confusion and claiming that many wetlands do not exist, he alleged.