ICICI Bank theft, murder: Accused stabbed me 17 times, says survivor
On July 29, a former bank manager Anilkumar Rajdev Dubey, while attempting a theft, killed the assistant bank manager of the ICICI Bank, Virar, and assaulted Devrukhkar, a cashier, with knife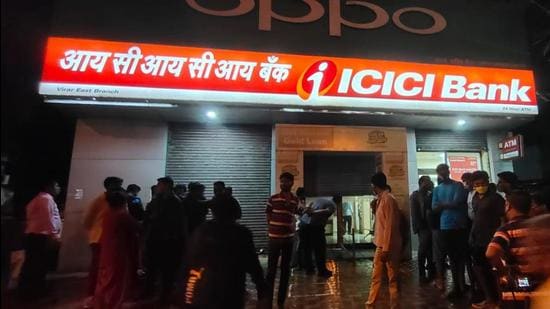 Updated on Aug 19, 2021 10:34 PM IST
"I could see death in front of my eyes, said Shraddha Devrukhkar, a cashier, who was injured in the ICICI Bank theft incident. She returned home after 19 days of hospitalisation.
According to police, on July 29, a former bank manager Anilkumar Rajdev Dubey, while attempting a theft, killed the assistant bank manager of the ICICI Bank, Virar (East), and assaulted Devrukhkar with a knife. The locals nabbed the accused while he was fleeing with a bag containing gold and cash.
Devrukhkar in her statement to police said, "Dubey first killed the assistant branch manager Yogita Chowdhary and later assaulted me. I pressed the security alarm, after which, Dubey fled from the bank with ₹3.38 crore gold mortgaged by customers to the bank in lieu of the gold loan."
"Devrukhkar had stayed back at the bank with the deceased till late to take stock of the gold and cash reserve, while the other employees had left for the day. The night security guard was yet to arrive," said senior inspector Suresh Warade.
"Dubey arrived at the bank and headed straight to Yogita's cabin. When I heard the noise of a chair falling, I rushed to Yogita's cabin and saw her lying in a pool of blood. Dubey then turned towards me and stabbed 17 times in the chest, head, shoulder and other areas," Devrukhkar said in her statement.
"I sounded the alarm but Dubey had locked the glass door from the inside. He had filled his backpack with gold. I found the keys to the main door and managed to open the door. Dubey then chased me and stabbed me. He tried to drag me inside the bank, but as my uniform was drenched with blood, it got ripped and I managed to run. The passers-by then caught Dubey. I could see death before my eyes," said Devrukhkar to the police.
Dubey is currently lodged in Thane jail. "We have seized his car arrested him under section 397 (robbery and dacoity), 307 (attempt to murder) and 302 (murder)," said Warade.
Close Story
Personalise your news feed. Follow trending topics