Punjab CM in Mumbai to seek investments, plans film city
Jan 23, 2023 12:46 AM IST
Mumbai: Days after Uttar Pradesh chief minister Yogi Adityanath held a roadshow in Mumbai to attract investment for his state, Punjab CM Bhagwant Mann will also do the same
Mumbai: Days after Uttar Pradesh chief minister Yogi Adityanath held a roadshow in Mumbai to attract investment for his state, Punjab CM Bhagwant Mann will also do the same. Mann, who arrived in Mumbai on Sunday morning and was welcomed at Santacruz Airport by Aam Admi Party workers, has several meetings lined up on Monday to this end at the Taj hotel.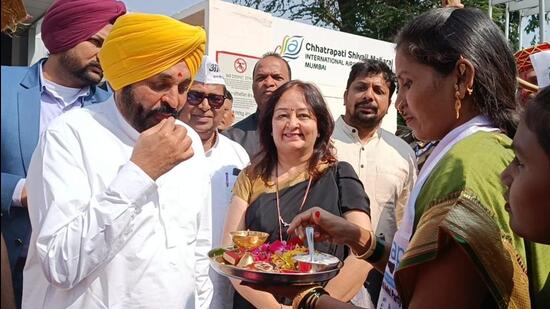 The CM is scheduled to meet industrialists, corporate czars and captains of industry for investments in the spheres of agriculture, IT, infrastructure, education, health and entertainment. Like Yogi, who sought help from Bollywood to set up a film city, Mann too asked for assistance on the same.
The CM said that since a large number of his friends from the film industry were settled in Mumbai, he would request them to launch their projects in Punjab. He said that the Punjabi film industry was already very big, and the proposed film city would further give wings to it.
Mann will also give a presentation on the AAP model of governance. A party functionary said that the AAP model of government dispensaries and schools in Delhi had garnered a lot of praise, and the Punjab government was also inaugurating 500 mohalla clinics in its state on January 27.
The CM will also be inviting industrialists for an investment meet at Mohali next month.
Mann expressed hope that his visit would propel industrial growth in his state on the one hand and open new vistas of employment for youth on the other. He said he would personally showcase Punjab as the land of opportunities and growth for entrepreneurs in Mumbai. He said Punjab was the most preferred investment destination in the country, and added that every effort would be made to rope in new investments for the state.