Shinde-Fadnavis cabinet a mix of experienced and regional players
Updated on Aug 10, 2022 12:21 AM IST
Mumbai While picking leaders for their first cabinet expansion, the Bharatiya Janata Party (BJP) as well as Eknath Shinde have given the preference to experience and also ensured that regional and caste balance is maintained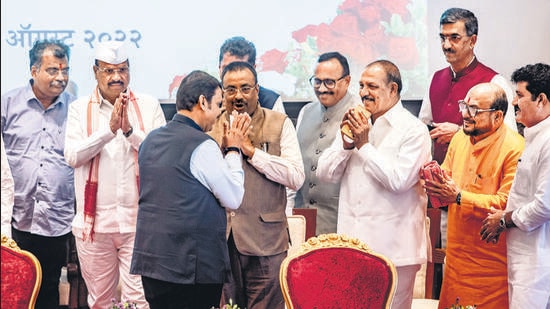 Mumbai
While picking leaders for their first cabinet expansion, the Bharatiya Janata Party (BJP) as well as Eknath Shinde have given the preference to experience and also ensured that regional and caste balance is maintained.
Among the 18 legislators sworn in on Tuesday, 17 were ministers in the past. Only Mangal Prabhat Lodha of the BJP is the new face. Significantly, all 18 are cabinet ministers.
Of the nine BJP ministers, six have served as ministers in the Devendra Fadnavis-led government, while two (Radhakrishna Vikhe-Patil and Vijaykumar Gavit) were ministers in the Congress-Nationalist Congress Party regime. Vikhe-Patil and Sudhir Mungantiwar are the senior-most ministers having served in the first Shiv Sena-BJP government too.
On the other hand, Shinde's eight ministers have served either in the Fadnavis-led government during 2014-2019 or the Maharashtra Vikas Aghadi (MVA) regime under Uddhav Thackeray between 2019 and 2022.
Six of them — Gulabrao Patil, Dada Bhuse, Sandipan Bhumre, Uday Samant, Abdul Sattar and Shambhuraj Desai — were ministers in the Thackeray government when they defected to the Shinde camp. Sattar and Desai were junior ministers. Shinde has rewarded them with cabinet berths.
Sanjay Rathod was a minister when the MVA was formed in 2019 but he had to resign in February 2021 after his name was linked to the death of a young woman in Pune. However, Shinde, as a senior minister in Thackeray cabinet, was not in favour of harsh action against Rathod. Instead of dropping Rathod, Shinde advised Thackeray to keep him suspended till the police investigation was in progress, according to his close aides. Thackeray did not accept Shinde's suggestion. As expected, Rathod did not think twice before joining Shinde's rebellion in June. On Tuesday, his political rehabilitation was complete with his return to the state cabinet.
Deepak Kesarkar was appreciated for his tenure as minister of state for finance in Fadnavis's tenure. However, he was left out of the MVA cabinet. Kesarkar jumped on the Shinde bandwagon and went on to become the spokesperson of the rebel camp.
Both alliance partners have tried to maintain a regional balance in the cabinet by inducting four ministers from Western Maharashtra, North Maharashtra, and Marathwada regions each. The Mumbai Metropolitan Region (MMR) and Vidarbha regions have two representatives each but that is compensated in a way because chief minister Shinde himself comes from Thane (under MMR), while deputy chief minister Fadnavis belongs to Vidarbha region (Nagpur).
Lodha is the sole representative from Mumbai though the majority of MLAs from the city are affiliated to the ruling parties. Sena criticised the government, pointing out that it was the first time since 1995 that there was no Marathi-speaking minister from Mumbai in the state cabinet.
The 18 new ministers are also picked from diverse castes though the biggest chunk (7) comes from the Maratha community, while two are from the other backward classes. Among the remaining are Gurjar (Girish Mahajan), Banjara (Rathod), scheduled caste (Suresh Khade), and Chandraseniya Kayastha Prabhu (Samant). There are two ministers from minorities — Sattar, a Muslim, and Lodha, a Jain.
There is likely to be dissent, especially in the Shinde faction where everybody wanted a berth. Before the swearing-in ceremony on Tuesday morning, Shinde held a meeting of his MLAs and explained to them why he had to select a limited number of ministers and that the next expansion could happen later this year, according to legislators who were present. "MLAs like Sanjay Shirsat and Bharat Gogawale were expecting cabinet berths but they were disappointed when their names did not make it to the list," a legislator, who did not want to be named, said.
In the BJP too, there was disappointment as legislators such as Pravin Darekar (who was the leader of opposition in the council) and Chandrashekhar Bawankule were expecting to be inducted into the cabinet, a party functionary said. Two party leaders who were prominent faces in the 2014 Fadnavis government, Vinod Tawde and Pankaja Munde, were also not considered. While Tawde is not even a legislator, Munde lost the assembly election in 2019.
Meanwhile, smaller parties and Independents have been left out in the expansion though two ministers from the Thackeray government had joined the Shinde camp. Bachhu Kadu and Rajendra Yadravkar, who were Sena allies and ministers in the MVA government, did not find their names in the list of ministers. Kadu expressed disappointment but said he would wait for the next expansion.
Personalise your news feed. Follow trending topics