Skywalks to link malls, offices to nearby metros
Published on Jan 21, 2023 12:26 AM IST
Plans are afoot in Mumbai to connect Oberoi Mall, NESCO in Goregaon and nearest metro stations with skywalks or travelators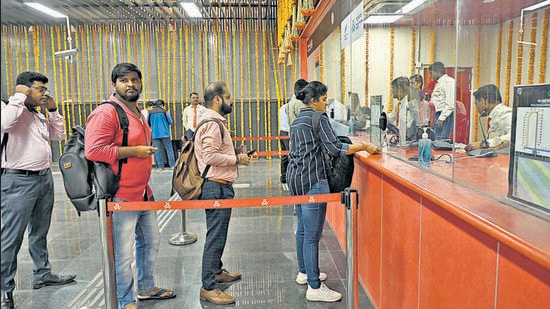 Mumbai: Those who have visited modern cities such as Dubai or Singapore might have noticed how metro rail stations there are connected, with foot over bridges, to shopping complexes, residential societies and malls for pedestrians. This might be happening soon in Mumbai as plans are afoot to connect Oberoi Mall, NESCO in Goregaon and nearest metro stations with skywalks or travelators.
The Mumbai Metropolitan Region Development Authority (MMRD) is finalising plans to go through with this connection and it will be the first-time a nearest station of mass transit will be directly linked to commercial offices and shopping complexes.
Presently, people have to walk or take autos, buses and taxis from railway and metro stations to their work places or other popular spots. Now, these places are expected to be connected to stations with foot over bridges and there is a scope of having travelators as well to ease walking.
SVR Srinivas, metropolitan commissioner, MMRDA, said they are working out details for connecting commercial spaces with the nearest metro rail station. "As of now we will be implementing this concept for two private players of Oberoi Mall and NESCO in Goregaon wherein there will be a skywalk connecting it with the metro stations. This will allow people to walk into the premises," he said.
According to urban planners, this will be a good example of transit-oriented development whereby there shall be ease of walking from mass transit projects to the commercial and residential spaces near it. As per the plans, private developers need to approach the MMRDA, who will vet it to gauge its viability and technical suitability.
Gundavali-Dahisar (E) Line 7, which falls on the Western Express Highway, has commercial offices and connects many residential societies. While Line 2A has more shopping malls and restaurants close to the metro stations apart from residential societies and corporate offices.
Sources said that there is scope for extending this plan in other metro stations as well which they will work out as and when there is demand. The necessary infrastructure for these skywalks like the staircases, escalators etc can also be provided. These foot over bridges will be available for everyone and not just for passengers using metro rail.
"Ideally the government agencies should plan these amenities at the time of construction itself. Now that the metro lines are operational, any further construction around the metro stations would only cause inconvenience to people," said an urban planner on condition of anonymity.
Further, these structures can also be commercially exploited and revenues generated. In Navi Mumbai, at few railway stations there are commercial offices and complexes in the premises or close by. However, there is no system of these being connected by skywalks or foot bridges.