Five held for robbing raw materials at Ghaziabad factory
Published on Nov 27, 2022 12:19 AM IST
According to factory owner Anup Gupta, the robbers fled with at least 113 bags of copper and 31 heavy bars of lead. He estimated the valuation of the stolen goods to be about ₹45 lakh. He said that around a dozen suspects took part in the robbery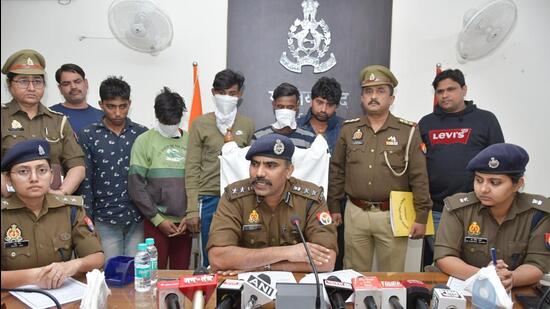 The Ghaziabad police on Saturday arrested five suspects who allegedly robbed a metal forging unit at South Side GT Road industrial area in the wee hours of Friday and escaped with raw materials worth lakhs of rupees.
The five suspects have been identified as Rohit Kumar, Arun Yadav, Mukesh Kumar, Ankit Kumar and Mohammad Israel, police said, adding that they recovered a part of the stolen raw materials (21 bags of lead and two bags of copper) and a pick-up van used during the crime. Police said that the remaining suspects will be arrested soon.
"Suspect Rohit was employed in the unit and was doing fabrication work for the past one week. He tipped his gang members about the presence of raw materials. The gang planned the crime about three days before the robbery," said Anshu Jain, Ghaziabad circle officer (city 1).
As per their plan, a few members of the gang barged into the factory around 3am on Friday and held hostage two employees who were on duty. They tied them up at gunpoint and called the other gang members, who arrived with a pick-up van.
According to factory owner Anup Gupta, the robbers fled with at least 113 bags of copper and 31 heavy bars of lead. He estimated the valuation of the stolen goods to be about ₹45 lakh.
Gupta said that around a dozen suspects took part in the robbery.
After robbing the factory, the suspects went to their accomplice Arun's house and dumped the stolen goods. They were later taken away in two other vehicles by gang members Furkan and Inshah, police added.
"Our teams started investigating the case also and interrogated Rohit. With the help of CCTV footage, we identified the pick-up van with the looted goods," CO Jain said.
The five suspects were arrested from Hindon barrage area under the jurisdiction of Vijay Nagar police station limits, police added.