Now, Ghaziabad's dhabas and restaurants to get star ratings 
Published on Jan 21, 2023 12:26 AM IST
Officials of the Ghaziabad municipal corporation on Friday said they have launched a "Swachh Dhaba" campaign, under the central government's cleanliness drive "Swachh Bharat Mission"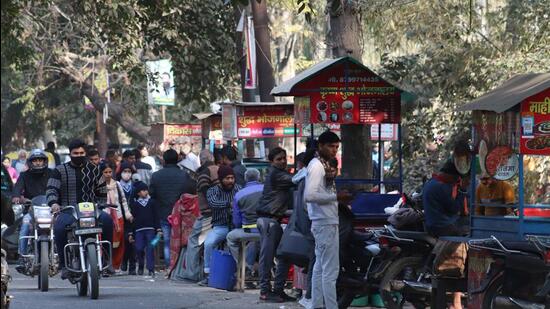 By the end of March, residents in Ghaziabad city will have a standard rating system to compare and select the best dhaba or restaurant in any area within the municipal limits.
Officials of the Ghaziabad municipal corporation on Friday said they have launched a "Swachh Dhaba" campaign, under the central government's cleanliness drive "Swachh Bharat Mission", on the directions of the state government.Under the new initiative, each dhaba and restaurant within the municipal limits will be given a star rating based on various parameters. Each restaurant will be awarded stars, up to a maximum of five, officials said.
The campaign will go on till March 31 and the dhabas will be awarded stars on the basis of hygiene, cleanliness, disposal of solid waste, facilities available and also the quality of food served, municipal officials said, adding that they have identified 188 dhabas and restaurants in the city. They estimate that the number could go up to 250.
"Currently, there are no standards regarding cleanliness, hygiene etc, available with us. Under this campaign, we have asked dhabas and restaurants to maintain the required standards and they will be awarded stars at the end of the competition. Those having the highest rating will obviously become the ones favoured by customers," said Mithilesh Kumar, corporation's city health officer.
He said star rated logos will also be placed at the establishments so that customers will have an idea about the standards available at the dhaba or restaurant.
According to the norms laid down for the campaign, a dhaba or restaurant gets one star rating if it does not use single plastic or plastic cutlery; has separate bins for wet and dry waste; clean toilets; is compliant to open-defecation free norms; has no waste dumps in vicinity, among others.
The three-star rated dhabas and restaurants will have to comply with the condition laid down for one star rated facilities and also have clean and beautified parking besides composting/compact biogas facility for disposal of waste.
While complying with one- and three-star rating norms, the five-star rated dhabas and restaurants will have to recycle and reuse their wet and dry waste; comply with zero waste generation and should also have a separate stall and selfie points
"Dhabas have been asked to maintain a level of cleanliness, ensure safe drinking water, maintain proper hygiene in the kitchen and dining space and also of staff serving customers and in the kitchen. The ratings will also take into account the cleanliness and maintenance of facilities such as washrooms and even parking spaces. Also, they have been asked to comply with solid-waste management norms. We will add more such establishments on the basis of licences issued by the food and drugs department," Kumar said.
The corporation officials said they will also approach reputed online food delivery companies to consider city's dhabas and restaurants on the basis of star ratings.
A 31-member team of the corporation has already started visiting restaurants and dhabas, urging them to maintain a good standard in all parameters to get a high star rating.
The disposal and processing of daily solid waste is also a major issue in Ghaziabad. The city is estimated to generate about 1,200 metric tonnes of daily solid waste.
In this connection, during the board meeting of the corporation earlier this month has also reduced the daily waste generation limit of bulk waste generators from 100kg per day to 50kg per day, officials said. Since bulk waste generators are supposed to have their own in-house solid waste disposal measures, the reduction has ensured that even dhabas and restaurants will have to make their own solid waste disposal arrangements.
"Currently, different dhabas and restaurants have different standards and practices they follow. With this campaign, they will be required to maintain a uniform level of quality and hygiene and this will ultimately define their business prospect and also benefit customers," said Rajendra Tyagi, councillor from Raj Nagar.