'She is like my sister', says Shrikant Tyagi, after arrest, on woman he assaulted in Noida society
Published on Aug 10, 2022 10:33 AM IST
Tyagi, who was on the run for about four days, was arrested on Tuesday and sent to 14-day police custody.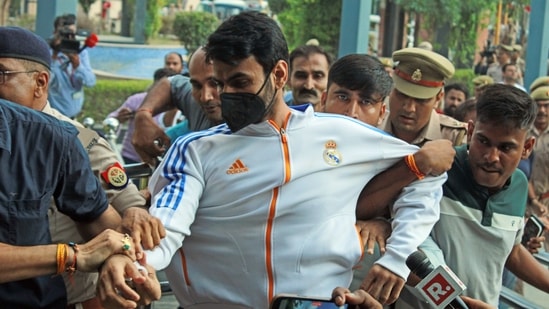 Shrikant Tyagi - the Noida politician whose claims of being a Bharatiya Janata Party leader have been denied by the BJP and who has been arrested by Uttar Pradesh Police for abusing and assaulting a woman - claimed Tuesday the woman 'is like (my) sister' and alleged a 'conspiracy' to 'politically decimate him'.
Tyagi, who had been on the run with a ₹25,000 reward for his capture, was arrested near Meerut yesterday and sent to 14-day judicial custody by a local court. Speaking to reporters outside the court, Tyagi said, "I express my regret on the incident. She is like my sister, the incident is political and was done to politically decimate me."
Tyagi was caught on camera last week heckling and abusing a resident of a housing society in Noida's Sector 93; she had objected to the planting of palm trees near his apartment, citing violation of rules. He was booked Friday; he and his three associates face charges of 'outraging the modesty of a woman' against Tyagi and others.
Later, police said Tyagi was using an MLA sticker on his car and that it had allegedly been handed out by Uttar Pradesh lawmaker Swami Prasad Maurya, whose quitting the ruling BJP and joining the opposition Samajwadi Party made headlines in January before elections.
Shrikant Tyagi was using a VIP number plate series issued by the transport authority in Lucknow; these are acquired through bids of not less than ₹1 lakh each.
He allegedly also had security provided by police for a year.
However, Noida Police Commissioner Alok Singh said Tuesday evening that no definite links had been uncovered between Tyagi and a bonafide politician.
It took the police over 48 hours to catch Tyagi; the principal difficulty was that he was constantly changing his location and mobile devices.
"Tyagi first tried to go to the airport but by the time the video was viral. Then he went to Meerut. He spent the night changing his device. Then he went to Haridwar and Rishikesh. After spending some time there, he again entered UP. Then again he changed his device."
A manhunt was launched and 12 police teams were deployed to track down Tyagi, the police said. "... zero-tolerance policy against crime against women and children," the top cop said.
Police have also recovered five vehicles used by Shrikant Tyagi - including four high-end SUVs - two Fortuners and two Safaris. The police said his driver had painted a state emblem on the number plate of his car to claim political influence.
"We are invoking the Gangster Act against Tyagi," the police said.
Personalise your news feed. Follow trending topics