60 more villages to get included in Bodo council, says Assam CM
Jan 26, 2023 09:04 PM IST
The Assam government has decided to include villages which have at least 80% Bodo population in the Bodoland Territorial Region
Assam chief minister Himanta Biswa Sarma announced on Thursday that 60 more villages in the state will get included in the Bodoland Territorial Region (BTR).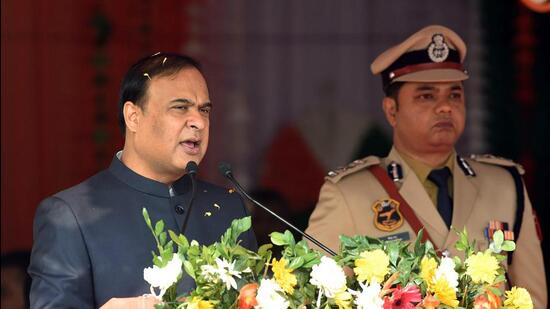 In his Republic Day speech in Guwahati, the Sarma said that 43 of these will be revenue villages and the rest 13 forest villages from Dhekiajuli, Sootea, Biswanath, Behali and Gohpur.
"As part of promises made in the Bodo peace deal signed in January 2020, our government has decided to include villages which have at least 80% Bodo population in the BTR," he said.
The Bodo peace deal signed in Jan, 2020 with all four factions of the National Democratic Front of Bodoland (NDFB), which was the third such deal signed by Centre with rebel Bodo outfits, had stated that villages contiguous to BTR and "having majority tribal population" would get included in the council.
"Thank you CM Sarma for your gifts to BTR in the form of implementation of the clauses of the BTR peace accord on this Republic Day," Pramod Bodo, chief executive member of the Bodoland Territorial Council (BTC), tweeted.
Sarma also announced an ex-gratia of ₹5 lakh each to families of 2,001 martyrs of the Bodoland agitation. He added that henceforth, March 31 will be marked as Students Day in Assam in memory of Upendranath Brahma, popularly called Father of Bodos.
Reiterating his government's recent announcement against child marriages, CM Sarma announced a widespread campaign against the malaise vowing to wipe it out from Assam within the next three years.
"Health surveys show that 31.8% of all marriages in Assam are child marriages and many girls who get married under the legal age also become mothers in their teenage years. This is the reason why we have high maternal and infant mortality rates in our state," said Sarma.
"We will eradicate child marriages in the next three years and I appeal to all citizens to help in the cause. Every child has a right to education of good health. I warn all priests and religious leaders who conduct child marriages that stringent action will also be taken against them," he added.
Earlier this week, the Assam cabinet had approved a "massive police crackdown" on child marriages.
It approved action under the Protection of Children from Sexual Offences (POCSO) Act against anyone who marries a girl under 14 years of age and action against those who marry children between 14-18 years, under provisions of the Prohibition of Child Marriage Act.
Sarma expressed confidence that peace talks with the banned United Liberation Front of Asom-Independent (ULFA-I) would happen in the near future and it would be the last goal for turning Assam into an "island of peace".
"Only one goal for peace remains in Assam. I appeal to ULFA-I chief Paresh Baruah to join the peace talks. Today's Assam is vastly different from the one decades ago when ULFA-I was born. Assam's new generation has the right to live in a peaceful state. I am confident that whether it takes days, months or years, Assam will cross the last mile to reach peace," he said.
On the occasion, the CM announced allocation of ₹300 crores for building a corridor at Kamakhya Temple in Guwahati on the lines with Kashi Vishwanath Coorridor in Varanasi.
Sarma announced enhanced monthly amounts for widows, those with physical disabilities, yearly health coverage of ₹5 lakh each to 6.5 million ration card holders and upgrading of 500 high schools at a cost of ₹2,000 crore.
"On April 14, to coincide with Rongali Bihu, we will have an event in Guwahati where 10,000-15,000 dhol players will try to create a world record. This year, we will also organise a sports extravaganza, where 25,000 villages in the state will take part," he said.