Maharashtra: At least 36 killed in Taliye landslide, 22 feared trapped in Satara
According to Aditi Tatkare, Raigad district guardian minister, a team of 20 local rescuers is involved in removing debris while National Disaster Response Force (NDRF) and police are also searching for missing persons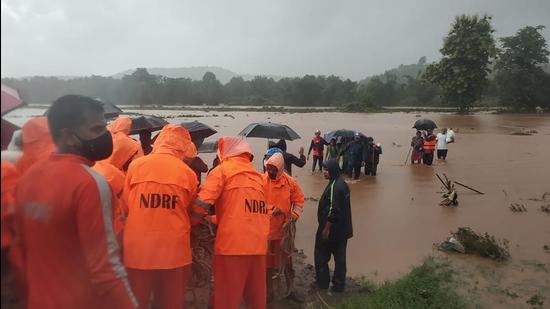 Updated on Jul 23, 2021 05:25 PM IST
The death toll in the Taliye landslide incident climbed to 36 as rescuers escalated search and relief operations by Friday afternoon, almost 24 hours after a portion of a hillock came down, burying about 32 houses in soil in this Ratnagiri village.
According to district administration, an almost equal number of people is still feared strapped under the debris.
Meanwhile, around 22 persons are feared trapped in two landslides in Satara's Patan tehsil, which received 300mm rainfall in 24 hours.
A team of rescuers comprising locals and National Disaster Response Force (NDRF) pulled out bodies from the debris manually as heavy rain and difficult terrain make it difficult for earth-moving machinery to reach the spot at Taliye in Mahad tehsil.
According to state relief and rehabilitation minister Vijay Wadettiwar, villagers were alerted and moved to safer locations in anticipation of heavy rain, as the India Meteorological Department (IMD) issued a red alert.
"We had relocated residents of Taliye few days ago to a safer location considering the risky terrain. However the locals moved back to the same place just before the landslide," said Wadettiwar.
Also Read | Flood in Maharashtra's Chiplun: Water starts receding, rescue ops continue
According to Raigad district collector Nidhi Choudhari, around 10 persons survived with moderate injuries as they quickly tried to escape when the landslide began.
"Based on the information from locals and survivors, we can say almost 30-35 people are still feared trapped. We have pressed more rescuers into service to search people trapped under the debris," said Choudhari.
While the landslide occurred on Thursday evening, rescue operations started only by Friday morning due to visibility issues, said Raigad district guardian minister Aditi Tatkare.
Earlier in the afternoon, Chief minister Uddhav Thackeray termed the Taliye and other landslide incidents in Maharashtra as unfortunate and asked people to move to safer locations.
"The Taliye incident is unfortunate... There are landslides reports in other parts of the state and my appeal to everyone is to stay safe. Those living in risky terrain should move to safer places." said Thackeray.
In Satara, landslides were reported at Ambeghar and Mirgaon villages which witnessed heavy rain in the past 24 hours.
Satara superintendent of police Ajay Kumar Bansal said that the two incidents took place sometime during Thursday night.
He added that the local rescue teams have reached both spots and the rescue work is underway and some people have been rescued. "At Ambeghar, four houses were buried under soil following a landslide and there are 13 to 14 people are feared trapped, while in Mirgaon, three houses were buried and 8 to 10 people are feared trapped," said Bansal.
He added that due to continuous rain, the roads leading to these places are either blocked or inundated and big earth-moving machinery cannot reach these areas to aid in rescue work.
Patan, along with neighbouring Mahabaleshwar, received record rainfall on Thursday. According to India Metereological Department, Mahabaleshwar recorded 600mm rainfall within 24 hours ending Friday morning. This is the highest rainfall reported at the hill station.
Close Story