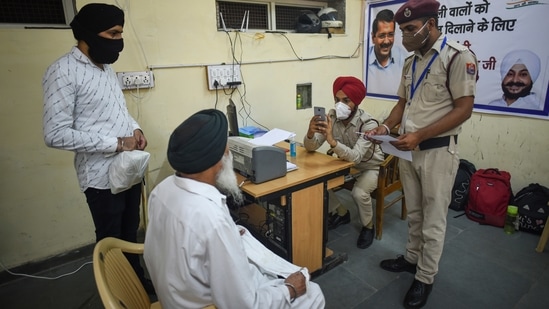 Delhi govt sets up special vaccination centre for refugees in Tilak Nagar
The vaccination site has been set up for Afghani Sikhs, Tibetans, and other refugees living in different parts of the Capital.
UPDATED ON JUN 16, 2021 05:24 AM IST
The West Delhi district administration set up a special Covid-19 vaccination centre for refugees without valid identity cards at Sarvodya Bal Vidyalay No.2 Tilak Nagar and inoculated as many as 185 people on Monday.
The vaccination site has been set up for Afghani Sikhs, Tibetans, and other refugees living in different parts of the Capital. The inoculation drive is being undertaken with the help of NGOs Bosco- UNHCR and United Sikhs.
"In pursuance of guidelines and directions of Health and Family welfare,...a special vaccination site has been set up especially for refugees, who don't have any valid identity card in India," additional district magistrate (ADM) of West Delhi stated on Monday. "As the entire world is battling the Covid-19 pandemic, it is also important to promote vaccination and vaccinate as many people possible. It will not only ensure prevention of super spreader sites in future but also ensure adherence to all regulatory requirements," read the statement issued by the ADM.
As per UNHCR data, 40,859 refugees and asylum seekers of different nationalities are registered under UNHCR's mandate in India. The number of refugee and asylum seekers from Myanmar, Afghanistan, and other countries of origin registered with UNHCR India stood at 210,419, 16,333, and 3,477 respectively as of 31 January this year.
Narender Taank, nodal vaccination officer, said anyone with a valid refugee identity card could visit the centre for vaccination. "Anyone who falls in the refugee category and possesses a UNHCR identity card is eligible for vaccination here. We are collecting data of such individuals through NGOs and carrying out a special drive to identify such refugees who do not have valid documents," said Taank.
He said the vaccination drive was being undertaken for the greater good since the aim was to cut virus spread. "The site is located in West Delhi but any refugee from across the city can avail of the vaccination facility on producing their refugee card. We will enrol and vaccinate them. Our aim is to ensure no one is left out," said Taank, adding that the response to the drive has been quite good s far.
Pritam Singh, who is among the five directors of United Sikhs in India, said the outfit was helping in vaccinating Afghan Sikh refugees. "We had sought approval from the government for vaccination of Afghani Sikhs. The passport works as a valid document for them. We are trying to vaccinate as many people as we can," said Singh.
Sabber Kyaw Min, founder of Rohingya Human Rights Initiative, said at a time when people across the country, regardless of their nationalities, are worried about getting infected, vaccination for all is a must. "Some Rohingya refugees living in Vikaspuri got the vaccine at the Tilak Nagar site on Monday with the help of UNHCR's implementing partner. We are awaiting an update on the vaccination process for refugees living in other parts of the city," said Sabber.
Topics
Close