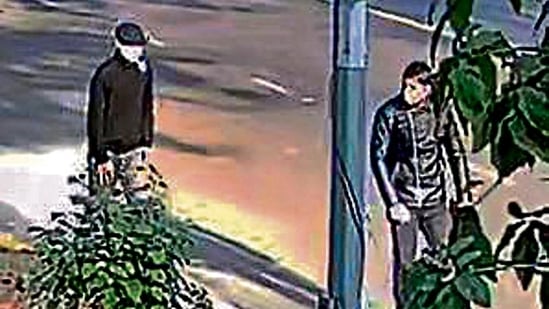 Israeli embassy attack: NIA declares
₹

20L to trace suspects

Officials said the visuals to the two suspects are the first major lead in the case.

By Neeraj Chauhan

UPDATED ON JUN 16, 2021 02:00 AM IST
The National Investigation Agency (NIA) on Tuesday released the pictures and videos of two suspects who, according to people familiar with the development, allegedly placed a bomb outside the Israeli embassy at Dr A P J Abdul Kalam Road in New Delhi on January 29 this year. The agency has also announced a reward of ₹10 lakh each for information on the two suspects, who appear to be in their late 20s or early 30s, and are seen roaming near the blast site in the videos.
Officials said the visuals to the two suspects are the first major lead in the case.
Investigators handling the case told HT that "the suspects, carrying a black bag, were roaming near the Israeli embassy and a lane parallel to Dr A P J Kalam Road half an hour prior to the blast which occurred at 5.11 pm that day".
While no one was hurt in the blast, intelligence agencies had confirmed that it was a terror attack.
According to the two videos and pictures released by agency, the suspects removed the jackets they were wearing within a gap of 15 minutes and appear to be waiting on the main Dr APJ Abdul Kalam Road.
NIA officials are confident that "these two kept the low intensity improvised explosive device (IED) fitted in a beverage can which was attached with a tiny timer, before placing it near a palm tree on the pavement at Dr APJ Abdul Kalam Road".
They added that the photos and videos were retrieved from several terabytes of CCTV footage and data examined over the last five months.
The explosion coincided with the anniversary of the establishment of diplomatic ties between India and Israel on January 29, 1992.
Prime Minister Narendra Modi had assured the Israeli government that perpetrators will be brought to justice.
Israel had said that Iran was behind the attack, a claim confirmed by Indian intelligence agencies in February, attributing it to three reasons – the attack fell on "the 29th anniversary of India-Israel's diplomatic relation"; the letter left at the site seeking to avenge the killings of Iran Quds Commander Qassem Soleimani and Abu Mehdhi Al Muhandis, in a US drone attack in January 2020, and the Iranian nuclear physicist Dr Mohsen Fakhrizadeh, who died in a car bomb attack in Iran in November 2020; and known bitter relations between Iran and Israel.
As first reported by HT, a team of Mossad agents had also come to India to discuss the leads with NIA.
Close