Gangetic dolphin rescued by Lucknow team, released in Ganga
Published on Jan 22, 2023 11:00 PM IST
A team of the forest department from Lucknow on Sunday rescued a Gangetic dolphin that had strayed into the Sagra canal in the Lalganj area of neighbouring Pratapgarh district on Friday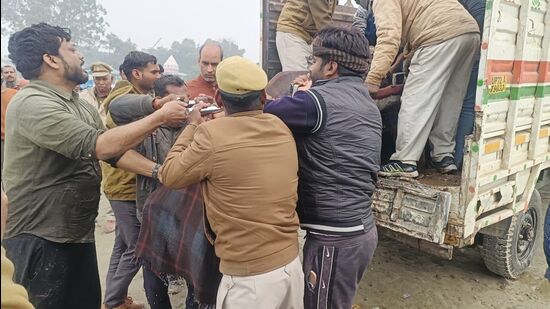 A team of the forest department from Lucknow on Sunday rescued a Gangetic dolphin that had strayed into the Sagra canal in the Lalganj area of neighbouring Pratapgarh district on Friday. The team took the dolphin and later released it in the Ganga, officials said.
According to reports, a large Gangetic dolphin lost its way and entered the Sagra canal sometime on Friday. The villagers informed the forest department after they spotted the dolphin in the canal on Saturday. The local forest department team used a net to stop the dolphin from proceeding further in the canal. The forest department team then kept a watch on the dolphin for the night until the arrival of a special rescue team from Lucknow under Dr Shailendra Kumar.
The team rescued the dolphin after an exercise of two hours on Sunday morning.
Pratapgarh Forest Ranger SP Mishra said the dolphin was released in the Ganga by the team which is its natural habitat.
The Gangetic River dolphin (Platanista gangetica) was officially discovered in 1801. They once lived in the Ganga-Brahmaputra-Meghna and Karnaphuli-Sangu River systems of Nepal, India, and Bangladesh. But the species is extinct from most of its early distribution ranges and their numbers have dwindled abysmally to less than a few thousand during the last century owing to direct killing, habitat fragmentation by dams and barrages and indiscriminate fishing.
The endangered species can only live in freshwater and are essentially blind. They hunt by emitting ultrasonic sounds, which bounce off of fish and other prey, enabling them to "see" an image in their mind. They are frequently found alone or in small groups, and generally a mother and calf travel together.
It is worth mentioning that on January 8, 2021, three persons involved in beating to death a rare Gangetic Dolphin were arrested and sent to jail by Pratapgarh police. The dolphin had strayed in the Sharda canal in the Nawabganj area of Pratapgarh district on December 31, 2020. Some villagers had caught the dolphin and brought it to a site having shallow water. They had attacked the dolphin with sticks and an axe resulting in its death on the spot. Some persons had even made a video of the incident which went viral showing a group of men mercilessly beating the dolphin. On the complaint of local forest department employee Dinesh Kumar Patel, an FIR was lodged against unidentified persons under the wildlife protection act. On the basis of video footage three of the attackers were identified and then arrested.