Buxar violence: Police lodge 5 FIRs against 66 named, 1,159 unknown persons
Jan 14, 2023 03:20 PM IST
A group of farmers protesting over compensation for land acquisition for Chousa power plant turned violent and attacked the policemen who tried to control the mob in Bihar's Buxar on Wednesday
The Bihar police have lodged five first information reports (FIRs) against 1,159 unknown and 66 named persons in connection with the arson and violence in Buxar on Wednesday.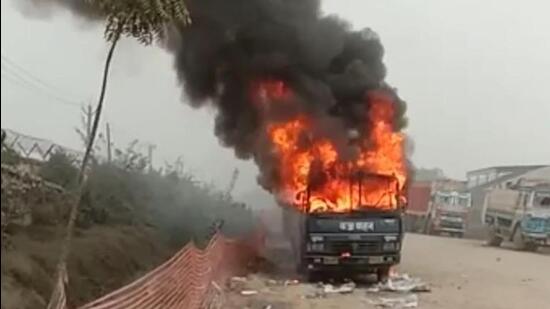 On Wednesday morning, A group of farmers protesting over compensation for land acquisition for Chousa power plant turned violent and attacked the policemen who tried to control the mob after a video clip of a midnight police raid, where cops were seen assaulting farmers, went viral on social media.
Meanwhile, a farmer has lodged a complaint before the court of chief judicial magistrate of Buxar against four named persons including then station house officer (SHO)-cum-sub-inspector of 2009 batch Amit Kumar, sub-inspector Chandrasekhar Azad, circle officer (CO) Brijbihari Prasad, CEO of power plant Manoj Kumar and 20 others policemen.
In the complaint, the farmer identified as Narendra Tiwary, 65, of Banarpur village alleged that the named accused broke open the door in the midnight and entered his house when all the members were asleep. They thrashed men and women mercilessly and looted their belongings including cash and jewellers.
One FIR was registered with the Muffasil police station on the statement of Chausa CO, in which 24 named and 300 unidentified persons were accused. The second case was registered with the same police station on the statement of the then SHO against 10 persons including three named. The third case was registered by the CO against 39 named and 400 unidentified persons. The remaining two cases were lodged on the statement of a power plant employee against 450 villagers under various Sections of the Indian Penal Code (IPC).
ADG (headquarter) Jitendra Singh Gangwar said three persons have been arrested so far and magistrate and additional police forces are deployed in the area. "The situation is under control and senior police officials are closely monitoring the day-to-day developments," he added.
Meanwhile, Opposition party leaders visited the area to express solidarity with the farmers. BJP leaders Ashwini Choubey, Sushil Kumar Modi and LJP (Ramvilas) chief Chirag Paswan visited Buxar and targeted the government for mishandling the situation.