Caste backwardness can only be eradicated through caste survey, says Tejashwi
Jan 11, 2023 07:17 PM IST
Tejashwi Prasad Yadav accused the BJP of trying to create misconception about the ongoing caste-based survey for narrow political gains
Bihar deputy chief minister Tejashwi Prasad Yadav on Wednesday once again hit out at the opposition Bharatiya Janata Party (BJP) accusing them of trying to create misconception about the ongoing caste-based survey for narrow political gains and asserted that the exercise will help in mitigating the backwardness in the society.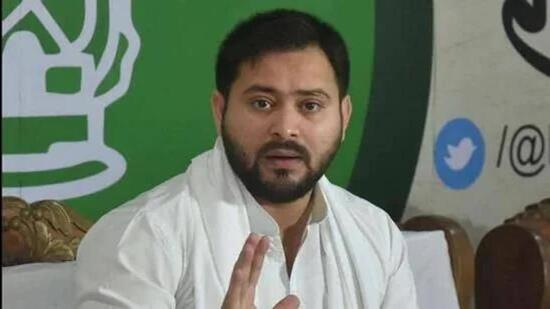 "If there is a backwardness because of caste, such backwardness can be eradicated only through caste-based survey by collecting scientific data," he said.
Yadav said the advantages of caste-based survey were enormous, if one looks at the efficacy of such an exercise without any prejudice, saying that it will help in preparing better schemes for the poor, check the leakages in resources and also identification of the oppressed sections for their upliftment.
"But the BJP is trying to create illusions and misconceptions about this exercise just for reaping political dividends," he said, adding that his party Rashtriya Janata Dal (RJD) led by Lalu Prasad Yadav had fought relentlessly for the caste-based census.
" The RJD, JD(U) and Samajwadi party had together put pressure on the UPA-2 government led by former Prime Minister Manmohan Singh for a caste-based census but the BJP did not allow the publication of the data. Now when the grand alliance government led by chief minister Nitish Kumar is carrying out the caste-based survey, the BJP is having a stomachache. It is for all to understand," Yadav said.
On the other hand, BJP state president Sanjay Jaiswal and senior leader and member of Parliament (MP), Sushil Kumar Modi emphasised that the party has never been against caste based survey and supported the exercise when it was in government with the JD(U) till August. However, Jaiswal questioned the state government on why the caste survey was not collecting data of sub-castes of different caste groups in the state and why there is little information in public domain about the processes involved in carrying the enumeration.
Jaiswal said that caste survey could easily be a medium for illegal migrants to get their names included in the register. He also said the non-counting of sub-castes of different caste groups would adversely affect the existing reservation system.