Defiant Kushwaha says won't leave JD-U, dares Nitish
Jan 27, 2023 11:44 PM IST
The current flare-up in the JD-U was ignited a few days ago when a picture surfaced of a few Bihar BJP leaders visiting Kushwaha at AIIMS in Delhi, where he was admitted for a routine check-up.
Janata Dal-United's parliamentary board chairman Upendra Kushwaha on Friday came out in the open against his party's de facto supremo and Bihar chief minister Nitish Kumar and categorically refused to quit the party.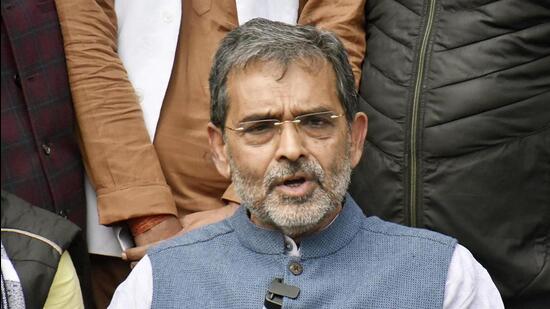 Talking to reporters at his residence in state capital Patna, Kushwaha took exception to Kumar's statement that "he (Kushwaha) came (into the party) by his own choice and can go by his own choice" and said he always joined the JD-U at the request of the CM whenever he (Kumar) got weak and invited him. "I have a son and he (Kumar) also has a son. We both should swear by our sons as to who is speaking the truth," he said.
Kumar, on the other hand, made light of Kushwaha's remark. "He came on his own and got respect. He was given a lot of opportunities in the party. Now don't ask me questions about him and if you do, I will do 'Pranam' to you. I feel surprised by his behaviour despite giving him all the affection," a visibly miffed Kumar told reporters.
"He (Kushwaha) owes his past stints in assembly and Rajya Sabha, and current membership of the legislative council, to the JD(U)," Kumar said.
The current flare-up in the JD-U was ignited a few days ago when a picture surfaced of a few Bihar BJP leaders visiting Kushwaha at AIIMS in Delhi, where he was admitted for a routine check-up.
CM Kumar, when asked about the picture and the possibility of Kushwaha joining hands with BJP, was dismissive and had said he had come into JD-U of his own accord and was free to go.
Kushwaha, a former union minister, has been upset in JD-U for some time, throwing indications that he might be weighing other options, but falling short of crossing the line. There has been buzz that was eying the post of deputy chief minister, but CM Kumar recently ruled out the creation of a second post of deputy CM in the state, other than the one being held Tejashwi Prasad Yadav of the RJD.
On Friday, however, Kushwaha said he was not going anywhere too soon, as the JD-U took shape "by the support of all sections of the society to pull the state out of the frightening situation prevailing then (prior to 2005)". "I have also given my sweat and blood for the party and I am not going to leave it just because someone says so. I want my share. I am not going to leave the party like that," he said.
Kushwaha, who is a nominated MLC (member of legislative assembly), has been taking aim at the party leadership for some time.
"Nitishji says party issues should be discussed at party forum, not through tweets or media. But who started all this? When I was in hospital in Delhi, these talks started. Nitishji has never called me. I have been demanding a meeting of the national executive, but that has also not happened. That can be a forum to present one's viewpoints. The picture regarding the deal with the RJD will also get clear," he said on Friday.
Kushwaha said Nitish Kumar was feeling helpless and weak since being relegated to 43 seats in the Assembly in the 2020 polls, but was unable to see the writing on the wall due to the coterie around him. "I am here to fight a decisive battle to strengthen JD-U. I have been with the party since its inception in 1994 and till Nitish Kumar became CM in 2005. After that, I returned to the party whenever Nitish Kumar was weakened and remembered me during his difficult period," he said.
Kushwaha had founded Rashtriya Lok Samta Party (RLSP) in 2013 and his party won three Lok Sabha seats in 2014 as part of the BJP-led National Democratic Alliance (NDA). He himself became a union minister but quit NDA ahead of 2019 parliamentary polls in which he fought from two seats and lost from both. After drawing a blank also in 2020 Bihar assembly polls, he merged his party with Kumar's JD-U in March 2021 and was later made an MLC.