DMCH has only 227 acres as per land records, says Bihar's health minister
Mar 12, 2022 09:16 PM IST
According to earlier document made available to Darbhanga MP Gopal Jee Thakur by parliament library, erstwhile Maharaja of Darbhanga had donated 300 acres of land for DMCH.
Amid the controversy over allegedly untraceable 73 acres of land belonging to Bihar's Darbhanga Medical College and Hospital (DMCH), state's health minister Mangal Pandey on Friday told the Legislative Assembly that the institution is in possession of 227 acres settled in its name as per revisional survey.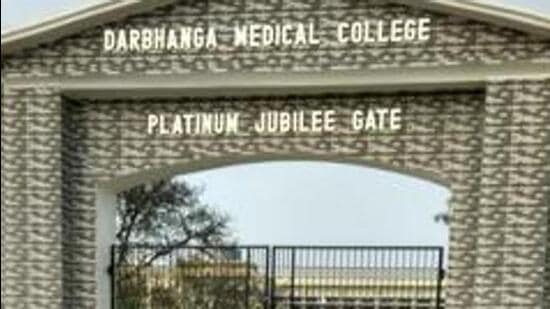 Replying to a question from Vikassheel Insaan Party (VIP) legislator Swarna Singh if the DMCH has only 227 acres out of the 300 acres in its name and 73 acres have been encroached and if the government would like to remove encroachment, the minister refuted the 300-acre claim in a written reply .
"As per the revisional survey, land records show 227 acres in the name of DMCH and it is under its possession. The settlement of the 227 acres is also in the name of DMCH," he said.
Revisional survey was conducted on the basis of the blue print map of the cadastral survey in order to update the land records.
The work on the proposed 750-bed All India Institute of Medical Sciences (AIIMS), approved by the Union Cabinet in 2020 under the Pradhan Mantri Swasthya Suraksha Yojana (PMSSY), is to take place on 150 acres of land of the DMCH, while the rest would be used for the development of the old institution, which has a rich legacy.
Chief minister Nitish Kumar had, in December 2021, also inspected the land before announcing that 150 acres would be for the AIIMS (Darbhanga), while a new campus for DMCH would be developed on 77 acres. Earlier, there was plan to earmark 200 acres for AIIMS.
According to earlier document made available to BJP lawmaker Gopal Jee Thakur, who represents Darbhanga constituency in the Lok Sabha, by the parliament library reference, research, documentation and information service (LARRDIS), erstwhile Maharaja of Darbhanga had donated a sum of ₹6 lakh and 300 acres of land for establishment and expansion of Darbhanga Medical College, which later came to be known as DMCH.
However, Pandey, who is also from the BJP, said on Saturday land records remain with the revenue and land reforms department, which is under the district magistrate at the district level. "I have got the details from the DM regarding the land with the DMCH. I don't know beyond that," he said.
Earlier, DMCH superintendent Dr Harishankar Mishra had also said there was no available document that could establish that the medical college had 300 acres under its possession.